The 15 Minute Gap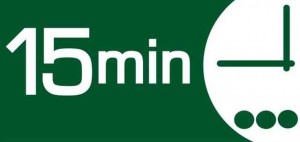 I've got a 15 minute gap problem and I'm not sure what to do about it. The 15 minute gap is the time between when I should start doing something and when I actually start doing it. It's usually created by getting distracted by something, sleeping in for another few minutes or some other non-productive procrastination.
Instead of moving when I need to I wait until the last minute, which results in all kinda of stuff I don't want. Things like having to run to the train, being late to meetings and unneeded anxiety. I do this to myself and I do it way too often.
You wouldn't think that 15 minutes would mean a whole lot in the scheme of things but it does. There's a big difference between being on time or being 15 minutes late. There's an even bigger difference between being 5 minutes late (which is usually acceptable) and being 20 minutes late (which is just plain embarrassing). The 15 minute gap bites me every time but it's still hard to overcome.
I guess it all comes down to willpower and the ability to trade a little bit of temporary discomfort for longer term gain. It's easy to say that now but for some reason in the moment it's a lot harder to actually do it. I guess I'm glad that I recognize that I'm doing it and soon the 15 minute gap will be hopefully be something I never have to deal with again.