Squatting isn't really a thing here in the States and took some getting used to while traveling through Asia. But, whether squatting to rest while checking a phone on the side of a street or to go to the bathroom in an airport – squatting is a common part of life for most Asians.
The Asian Squat, while interesting to see and fun to joke about, can be very intimating — especially when trying to master the squat toilets of Asia. Personally, a few years ago I wasn't even close to being flexible enough to use one of them without clinging to the door or something else in the stall for dear life. But, over time I've gotten more used to the position and have even gotten to the point to where I can squat enough when the situation calls for it.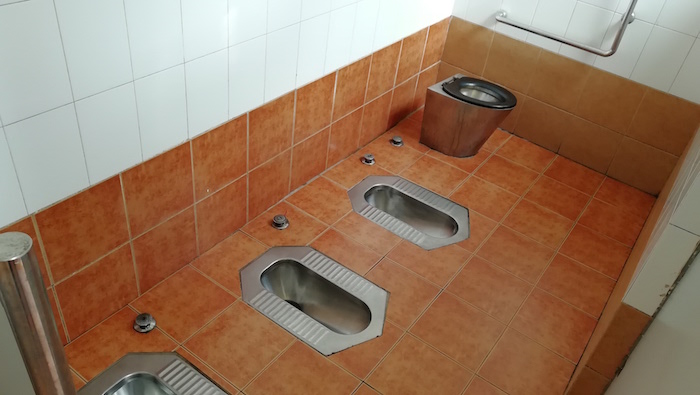 A shared bathroom in a Beijing Hutong — don't worry, you get used to it. 
But, I also feel like I still have a ways to go before I've really mastered the Asian Squat, so I've been working on it while I've been home here in Indiana. I try to spend at least a few minutes in the squatting position during my workouts as well as in the morning and before I go to bed. Over the past few years I've also dramatically increased the amount of overall stretching while working out, so that's been a big help when it comes to squatting without falling over like an idiot.
So, I'll keep on fighting the good fight of forcing my legs to loosen up and hopefully one day I too will be able to master what everyone in Asia seems to think is so simple.