[box type="info" style="rounded" border="full"]I'm going back to Congo on March 14th and would love your help! Keep on reading for more details on why I'm going and here's 
some info
 on how you can donate/get involved.[/box]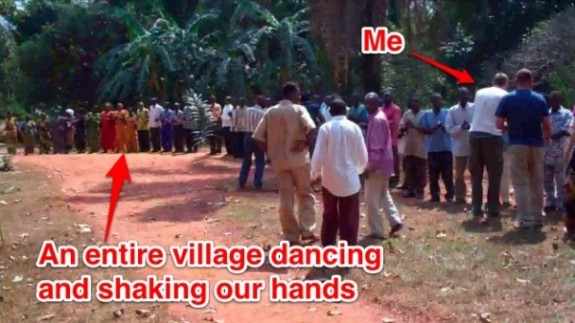 Ok, so here's the deal. As some of you might already know Stephanie and I were blessed to be able to go to Congo with our church on a mission trip just a little over a year ago (you can see some pics, videos, etc. over here: http://www.hupandsteph.com/congo). It was incredible to see what God was doing in Congo and how much of an impact we could have in the couple weeks we were there.
Personally, I fixed a ton of computers, taught 80+ students how to use them and created relationships with some of the most amazing people I've ever met. Also, just by being there and traveling all the way across the world to love on the people of Congo I made an impact in the lives of more people that I'm sure I'll ever realize. I still keep in touch with many of my students (thanks to Facebook) and ever since I got back from the trip I couldn't wait to get another chance to go back over.
I'm Going Back To Congo!
Well, a few weeks ago I found out that I'm going to get that chance in March (March 14-28 to be exact) and I'm super excited to go back. Really only the one thing I'm not excited about with this trip is that I'm going without Stephanie, which will be hard for us both. But, this is how God's plan for this trip is coming together and we're both happy that I'm getting the opportunity to go back and I'm sure they'll be another chance for us to go back together again. I'll be doing more of the teaching and technology repair while I'm there as well as continuing to build on the relationships that were started on my last trip and creating new ones.
Can You Help A Bruthu Out?
Just like with the last trip, I'm going to need your help with some fundraising. I still find it extremely ironic that it costs so much to travel to such a poor country, but I guess that's how it goes. Anything you can do to help me out with the cost of the trip would be awesome (you can donate over here on this page)  and if you can't give anything, that's fine, too. Just please be sure to keep me in your prayers while I'm over there. Congo is still very unstable country and even though we're staying with a good group of people who keep us safe, we still need all of the support we can get.
What I Need The Money For
In case you're wondering and for transparency sake, here is a detailed list of what the $2,600 I need to raise is going to be used for:
– Outgoing flight to Congo $1,850
– Domestic flight in Congo $520
– Visa $200
– Insurance $35
– Reimburse the Congolese church for their costs to host me $900
Total Cost of Trip $3,500
Church Contribution (25%) $900
______________________________
Total Money Hup Needs To Raise $2,600
All Donations Are Tax Deductible
All of the money you donate to my trip goes straight to my church and is fully tax deductible. You'll be emailed a receipt so that you can write it off like a muthu.
Thanks, You're Awesome!
If you have any questions of need anything, please click the Contact Organizer button and send it on over. Thanks again for all of your help with this and I can't wait to get back to Congo!