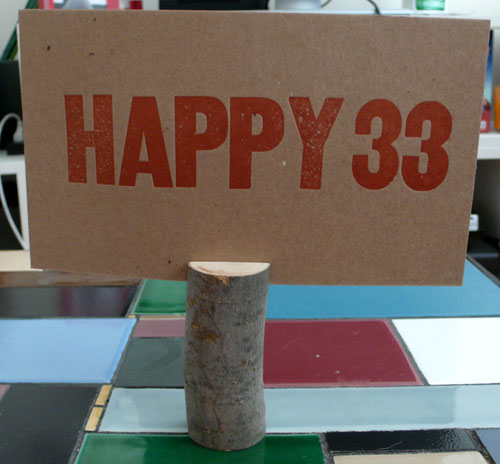 First question, when did I hit 30? Second question, am I really 33 already? According to my Facebook wall, random texts from Congo and future phone calls from friends and family it's true so who's to say otherwise? Ok, I'll admit it — I'm creeping into my mid-30s. I guess the only thing that's good about this whole "getting older" thing is that this past year was most likely one of the most positively transitional times of my life. Meaning, even though there was plenty of struggle for me in the past 365 days (you have no idea), last year was amazing to experience and I feel more blessed now than ever. In other words, I'm pretty sure I'm in my prime.
So what are some of the thing that have made my last year so valuable to me? I'm sure I could write a million things and go page after page but none of us really want that. We're all busy people with limited time, which is why I'm happy to give you a Cliff Notes version instead.
To all of my friends and family who have been there for me over the past year, you'll never have any idea what your love and support has meant to me. I love you and I hope you already knew that without me having to tell you in a blog. Moving on…
Learning what loving someone really means. There are plenty of ways to show that you love someone but the most powerful way is by doing what you know is right and fighting for what you believe. Always keeping someone happy isn't loving them. Being honest, sacrifice and never letting go is love to the fullest.
Studying the Bible. I'm a strong believer that if I'm going to put my faith in Jesus Christ then I had better know what I'm signing up for. The Bible is the center of following Christ and although I feel a strong spiritual connection I didn't feel like I knew enough about the word. To learn more about it I've been going to Bible Study Fellowship in SF for the past few months and it's been a great way to dig deeper into my faith.
Becoming a morning person, for real. I've never been a morning person but as I got older and had more responsibility I felt like getting up early was the only option for squeezing in everything into one day. It's been tough and I don't always stick with it (like when I was in Indiana for the holidays) but I'm not well aware of the amazing benefits getting up at the crack of dawn and it's becoming more of a habit every day.
Meeting Mo. Wow, what can I say about Mo other than the fact that he's been one of the biggest blessing's I've ever had in my life. If you would have told me that becoming friends with someone who's homeless would end up shaping me into a man more than everything else in my life combined I would have called you crazy. The work that God is doing on Mo is nothing short of a miracle and how the relationship has challenged me personally isn't too far behind. Of course, the fact that our story went viral all over the world was pretty crazy, too. That's still hard to believe.
Realizing the value of real relationships. My entire life it's been really easy for me to become friends with lots of people. What hasn't always been easy for me is creating strong, personal and meaningful relationships with the people in my life who really matter most. This past year of my life I've focused on taking the time and making the effort to show those who mean the most to me how much I love them and all I hope is that they've noticed.
My connection to Congo. I'm really not sure how it happened but somehow, someway I've developed an amazing connection to Congo and the amazingly beautiful people who live there. Traveling there for the second time last year was an incredible experience for me and the time I was able to spend with my Congolese brothers and sisters is something I hold very dear to my heart. If you haven't seen me dancing while in Congo I suggest you take a look, it was one of the most memorable moments of my life. I have a feeling my story with Congo isn't close to being over and I can't wait to see where God takes it next.
Seeing isocket grow into a real company. A little over three years ago I was the first employee at a small, unknown online advertising startup called isocket. I had no idea what I was doing and I knew nothing about the online advertising world but for some reason I felt like what we were doing was important and that our fearless leader, John Ramey knew exactly what he was doing. A couple rounds of funding and about fifteen more employees later we're building a business that's leading what's predicted to be a multi-billion dollar market.
Killing caffeine. I've tried to kick the habit of downing Big Gulps full of Dew, brewing K-cups and heading to Starbucks but I always came back. A month or so I ago I decided for the last time that I'm done with caffeine and this time I'm sticking with it. When I'm in shape I don't need it, I don't like feeling dependent on it and it only makes me more anxious and over-energized anyway. If you know me you already know I've got plenty of energy to burn so cutting out caffeine was really the only option for me.
Dedicating time to writing. I guess this is becoming more apparent as I write more posts like this one you're reading right now but I've been writing more than ever over the past year (and especially over the past couple of months). It's a great way for me to get my thoughts together and I'm a believer in the power of sharing experiences with others as a way to help them with the things they're dealing with in their lives. We were never meant to go through things along and getting my thoughts and experiences out to the world can only help.
I'm sure I missed some stuff but these are the handful of things that immediately came to mind when thinking back at all of the awesome things that have happened to me during my thirty-second year on this crazy planet of ours. I'm feeling great going into my thirty-third and I can't wait to see what happens next.
If you have anything you would like to share with me on my birthday, I'd love to hear from you. I really appreciate you taking the time to stop in and spend time in my little corner of the internet and I can only hope that your past year was as fun and fulfilling as mine. Happy birthday to me and we'll catch up soon.
photo credit: heartfish.com