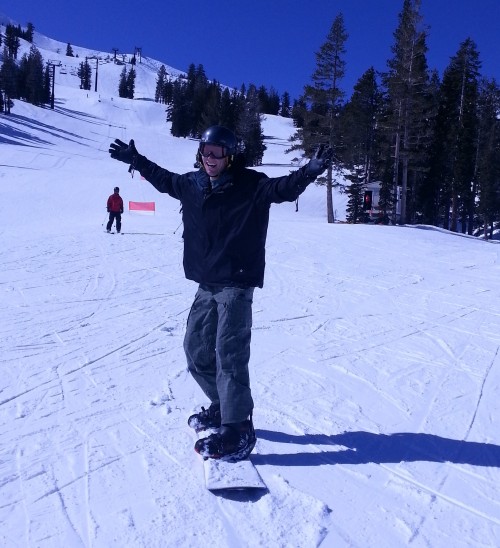 This past weekend I was in Tahoe for an isocket offsite and after spending two days inside working me and the rest of the team were excited to go hit the slopes at Squaw Valley. Seeing as it was the first time I had ever been to Tahoe I was really looking forward to trying out snowboarding, even though I had been told it was really hard to learn.
Snowboarding vs. Skiing
While renting my gear it was decision time — am I going to go skiing or snowboarding? I hadn't done either up to this point so I could have gone either way.
"If this is your first time on the mountain you should definitely go skiing.", said every single person I talked to. They all told me that snowboarding for the first time is hard an painful. If I was to ski I would pick it up much faster and would be able to get more time on my feet and not my butt.
I had already made the decision of what I wanted to do way before getting to Tahoe. I was going to learn to snowboard. I could tell the decision even surprised the younger guy in the hoodie who was helping me pick the right gear to rent. He was a long-time snowboarder and me going the snowboarding route seemed to put a smile on his face. As he was getting my board ready I asked him every possible question I could in an attempt to better understand what it took to ride a small piece of fiberglass down a really big mountain.
Everything Is New
When I made it to Squaw it was like landing on another planet. Huge mountains with people sliding down them, big machines that were taking them to the top and an overall style and culture that I had never experienced before. A few things I noticed were awesome looking snow pants, lots of dreads and a parking lot full of Subaru Outbacks. "Welcome to Tahoe.", I thought to myself while walking around the ski resort.
At the bottom of the slopes we followed the rest of the herd into the tram station that was being fed by a handful of turnstiles. All of us made our way into one of the cable cars and before you know it we were practically on top of the mountain. I had my snowboard in hand like I knew what was going on but I had no clue where we were or what I should do next. Everything was new and I was figuring it all out on the fly and thanks to the rest of the guys who were with me.
Stand Up, Fall Down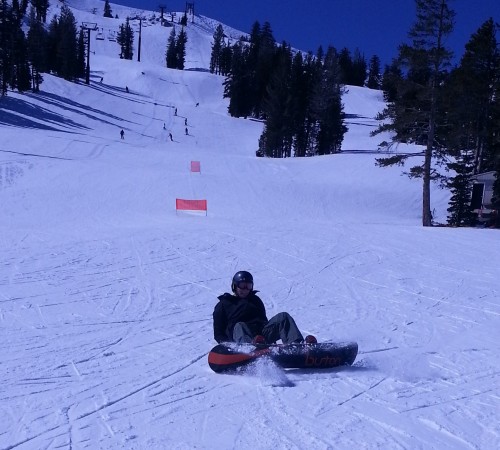 Me, on my butt after falling again. 
Then it was time to get down to business. I was all good with the whole "just look like I know what I'm doing" for a while but things got real once it was time to strap my boots to the board. I wasn't even sure how to do it but even then I figured I would be able to snowboard with no problem once I was ready to go. My friend Dom showed me how it was done and before you know it there was nothing standing between me and my first run down one of the easiest trails at Squaw. I think it was called Golden Flower or something like that.
I remember my first fall being on the softer side as I was still in the area where everyone locks in their boots before carving down the mountain. I had no speed and I had barely even stood all the way up before falling all the way down.
Over the next couple hours I fell down more times that I can remember. In fact, I don't want to remember them at all because they really started to hurt. A lot. Dom being the awesome friend he is stuck with me through these first two hours and helped me as much as anyone could. But I just kept falling and getting up. Falling and getting up. It was tiring, it was embarrassing and I was only a few shoulder, wrist and butt plants away from giving it up completely. Dom was nothing but encouraging but every man has his limits.
In those couple of hours we only used the lifts twice. It was exhausting and painful for me and had to be just as bad for poor Dom.
The Breakthrough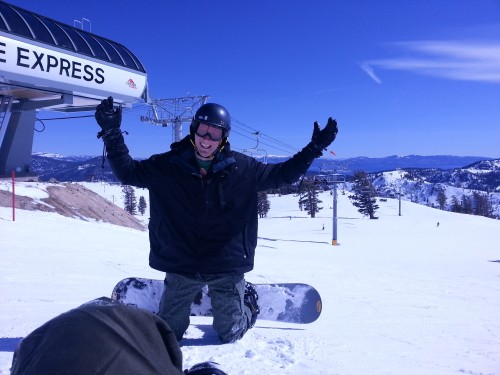 It felt good to finally figure it out. 
Just before lunch there was a magical moment that happened. Something Dom said finally stuck and from that point on I felt like I had control of the board and started going faster and faster without falling down. I still caught an edge here and there or lost balance while trying to get started but I was able to snowboard down the entire path that once took me an hour in less than ten minutes. I guess you could say it was my Neo/Matrix moment and it felt incredible.
For the next few hours after lunch I was on my own and things only got easier. I even got to the point to where I could snowboard straight into the entrance of the lift and didn't have to unclip my bindings to make it in there. It's the little things.
It Was Worth The Pain
I rode the lift many more times after that and had an amazing time. I was finally able to snowboard on my own and even though it took me falling down more times than I would have liked it was totally worth it.
Getting to the point to where I could feel the speed of the mountain was awesome and I can't wait to do it again. From here on out it's only going to get easier and if you're thinking about giving snowboarding a try I say go for it. I have some ideas on how to make it even easier (and less painful) to learn for first timers but I'll save those for another day.
Photo credit: My fantastic instructor, Dom