Breaking Down The Harlem Shake Internet Meme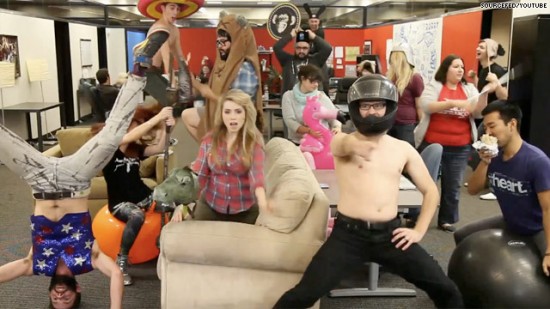 There have been a lot of amazing Internet memes over the years and I tend to love them more than most. Some that come to mind are planking, Sad Keanu, Shit People Say and the way over played but still entertaining Call Me Maybe phenomenon. These memes all start in different ways but for me the amazing thing is how fast they can spread and how many people can get involved so quickly.
A new meme that I've really been enjoying lately is the Harlem Shake and even though it's getting to the point of not being cool anymore I'm still having a lot of fun watching the videos that are still being created for it. There are a few reasons why I'm still hooked on them and for me the fun part isn't just watching them but it's also figuring out why it became so popular to begin with.
The Harlem Shake meme in particular has a few things about it that makes it more meme-tastic than some of the other ones that have popped up in the past. Here are a few reasons why it's blown up like it has.
Follow The Taste Maker: There was one guy who started this whole thing and then soon after there was one more that followed. That's all it took to spark the fire that has now created tens of thousands videos and more than 75 million views.
Fresh Sound: The Harlem Shake is a fresh sound that people love to listen to. The part of the song that's in the videos is addictive and the lion roar at the end of it is amazing.
Clear Instructions: The instructions were simple for what to do in the video. One person (preferably wearing a mask) dances while other people around them don't pay attention. Once the song gets to the hight of the progression it quickly changes to lots of people (preferably dressed in costume) dancing like crazy.
Low Commitment: The Harlem Shake videos are around thirty seconds long and only require one simple edit. So easy that anyone can create and upload their own version without having to do a lot of work.
Anyone Can Do It: Whether it's you and your son, you and your college team or you and your co-workers you're all able to join in on the fun. Also, once it officially hits meme status being part of it becomes a way to promote yourself or your organization which incentivizes lots of new groups to throw their hat in the ring.
Yep, the Harlem Shake is what I would call the perfect storm for an Internet meme. But don't take my word for it, here are a few of my favorite videos that will show you just how awesome it is.
SeaWorld

Matt and Kim

The Norwegian Army

University of Georgia Swim and Dive Team