Jason Smith Cowboys Up And Thinks You Should, Too
[box type="info"]This is a guest post by one of my friends
Jason Smith
, who also happens to be one of the most interesting people I know. He's a triathlon maniac and has some of the best stories when it comes to never giving up and taking a challenge to a ridiculous level. In this story he talks about how he "cowboyed up" and finished a triathlon after breaking his collar bone just two weeks before. Like I said, he's a manic.[/box]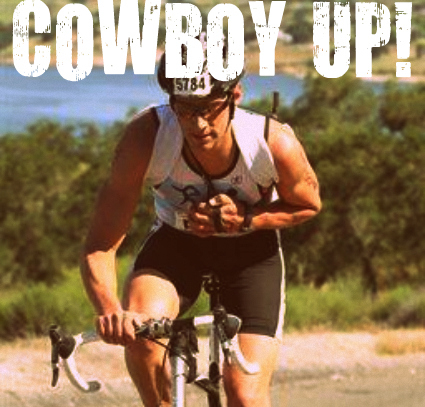 BEING TOUGH IS IN MY BLOOD
Being tough in my family has always been a rule of thumb. "Suck it up, boy!", "Don't quit, boy!", "Keep your head up, boy!" my dad would always say. I don't know where dad got the toughness from but I think it was his job (Head Trainer of the Indiana University Football team) and/or grandpa who molded him into this driven/"no pain"/"Rocky" mentality as he is today. My dad had has had four hip replacements and still is riding his bike like Lance Armstrong — for real. I've seen the man slip on the ice and crack his head on the pavement so hard that I felt the vibration through the soles of my shoes but he got right back up, brushed the snow off his pants and acted like nothing happened. NEVER have I EVER seen my dad cry. Well, I take that back, his eyes filled up with enormous amounts of salty liquid when grandpa died (does that count??). But even then, he still stood tall and made sure the rest of the family was okay.
So I guess experiencing all these character building traits of my dad I feel I have to be the tough guy as well. Well, maybe "stupid" is a better choice of words. For example, after getting my wisdom teeth pulled I "had" to do a track workout. I thought if I didn't get my workout in I was going to lose fitness. Or maybe receiving eighteen stitches in my leg from a mountain bike wreck and then after I was compelled to finish my ride because I didn't get that last hour in. And most recently, I competed in a triathlon 2 weeks after breaking my clavicle. Swam, biked, and ran with one arm. Hey, if paraplegic can do it, I can do it, right?
CHASING THE DREAM AND BREAKING A BONE
So speaking of a broken collar bone, on November 1st, 2010 I moved to Santa Barbara, CA for many reasons. 1) is to start my new life with my girlfriend, 2) start a new job and 3) to compete in triathlons professionally. Unfortunately, within a month of living in California I broke my clavicle (collar bone) in three places from a bike accident. It was a rude awakening to start my new life in California but surprisingly this was my first bone I've ever broken so I guess that was pretty cool. Well, kind of.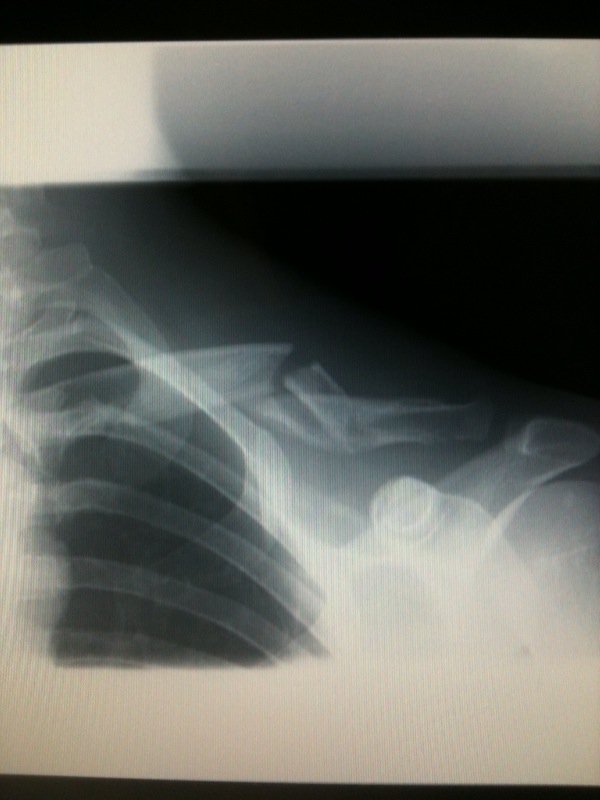 Smitty's first broken bone was a doozy and it couldn't have come at a worse time
It was cool because I could show all my friends the x-ray of the shattered bone on facebook. It was not cool because apparently, as a triathlete, we need our shoulders to swim, bike and run (well running is doable but I'd advise not to if you break any bone in your shoulder). After showing off my broken collar bone the reality started to set in. This actuality of not being able to go 110% is hard to take. The break made me super upset because now it's going to take me two weeks to get back on my bike, three to four weeks to run again and two months to even think about getting back into the pool. The next day (after sleeping a whole 2 hours in a chair due to the pain) I thought about getting on my bike. Immediately a little voice in my head said, "ya know, riding my bike probably isn't the best thing to do right now". So, I decided to skip it – for that day.
HEALING CAN WAIT
The next day, after getting another 2 hours of sleep in a chair, my OCD kicked in and I HAD TO GET ON MY BIKE! I asked myself, "Is it really that bad?" Again I thought of all the stories to where people have sucked it up, kept their head up, and cowboyed up. For example, Tyler Hamilton riding the Tour de France with a broken collar bone. "See it can be done", I thought to myself. Steve Prefontaine broke and won the American 10k record which lead Oregon to a Track and Field National Championship on a foot that needed twelve stitches. Or (my favorite) when Professional Bull Rider Lane Frost got his balls riverdanced on by a 1,200lb bull and wanted to quit the competition until his best friend David "Tuff" Hedeman told him to COWBOY UP! While all these stories are circling around my head I decided to put my bike on the trainer and began to cowboy up myself, so off I went. As I was riding I thought, "Why in the hell do we do this to ourselves?" I guess it's the love of the sport that makes us do crazy things. It's a test within. As a competitor, I guess I was testing the guy inside. I was also hearing my dad say, "A day wasted is a day you can't make up." How many times have we heard that?
HEALED UP AND READY TO RACE
Four months later my clavicle was healed and back to normal. Swimming was finally back up to speed and running and biking were the same. Two weeks till my first competition and I was feeling good and felt like I was ready to rock! This race was important for the fact that it was a professional sanctioned race. You see, in a professional sanctioned race if an amateur athlete places high enough he can advance his status to a professional athlete (receiving his "pro card" as one might call it). To prepare for this triathlon my coach had me signed up for a 10 mile race. I was excited about it, but life had other plans…again.
DOWN FOR THE COUNT (BUT NOT FOR LONG)
The night before the race I was riding my bike home and a car pulled out right in front of me. After quickly swerving and barely missing the car I started pedaling as hard as I could to keep up with traffic and my chain snapped. Not good. When this happened thought that the car behind was going to literally run me over, so I closed my eyes and embraced the hit. After hearing the rubber of the car tires drift right inches from my body I felt a wave of relief come over me. I was alive and I was pretty happy about that.
But, when I got up and grabbed my bike I immediately felt this crazy pressure in my shoulder. Oh yeah, the same shoulder I broken before. I'm not really sure what exactly went through my head at that point, but I think it was something like "F&$%! I DID IT AGAIN!" Sure enough, I had broken the same exact bone in the same exact place that I had broken only 4 months ago. Talk about life giving you a nice kick in the balls – well, actually, more like a kick in the head, pelvis, ribs, knee, elbow, and shoulder from drilling the pavement.
After I pulled myself together I was so mad that I wanted to scream at the top of my lungs, but I was in so much pain I couldn't even do that. I was hopeless helpless and walking home like a dog with his tail tucked between his legs. It definitely wasn't one of my finer moments. Of course the thing that really sucked was that my girlfriend was out of town so when I got home I couldn't even get undressed and take a shower. So I ended up sleeping on top of my covers with an ice bag that leaked all over me in the bed all night long. Not comfortable.
10 MILES WITH A BROKEN COLLAR BONE
The next morning (day of the race that prepared me for my big triathlon) I sat in bed not wanting to move, all of a sudden I hear that damn voice in my head again, "Suck it up, boy!", "Don't quit, boy!", "Keep your head up, boy!" and of course, the phrase that I love the most "COWBOY UP, BOY!" was flashing in my head brighter than a neon sign in Vegas! So, I dragged myself out of bed, went straight to the medicine cabinet, popped some Advil and ran the 10 mile race. It wasn't pretty but I ran it. It was hard but didn't stop. The entire time I was running I was thinking, "If I quit now, I'm not going to be ready for my triathlon competition in two weeks. KEEP GOING!!" I cowboyed up and that was that.
ON THE SIDELINES FOR THE TRIATHLON
Two weeks later was the Triathlon. My shoulder still broke as can be and there was no way that I was getting my pro card at this point. Still pissed off, I went to the race anyway to support my girlfriend and the rest my team. The morning of the race I actually packed my racing kit, picked up my number and headed down to transition just to see what it was all about. Since I had already registered for the race I might as well get my free T-shirt, right? Well, subconsciously I knew exactly what was going to happen. My mind was telling me to compete but I told myself I was just going to be more of a cheerleader from the sidelines. Personally, I didn't really like what my body had to say…so I started to ignore it.
All of a sudden, partly out of habit and partly out of sheer ridiculous determination I noticed myself starting to set up all of my gear. After that I started warming up. After I finished my warm up I started to pin on my race number. Something was happening and it felt like it was almost out of my control at this point. My mind was set on running this race and it was getting my body ready for it.
TIME TO COWBOY UP
At this point my good buddy, Craig Spreadbury (an amazing triathlete), saw me and said, "Dude, you already warmed up and your stuff is set up in transition. Don't be a pussy now, you might as well race." Feeling the love/pressure from Craig was all I needed to officially push myself over the tipping point to grabbing my chips and going all in. So, I strapped on my brace and sling, pulled on my wet suit and off to the start line I went. Considering the situation I was in and how I was feeling mentally my only real goal now that I was going for it was not to finish last. I thought that seemed like a legitimate goal at the time.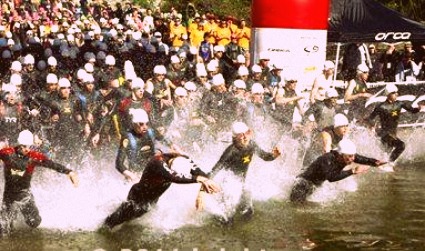 And they're off! A one-armed Smitty is in there somewhere
As Craig and I were standing in the endless swarm of swimmers (talk about feeling like David taking on Goliath) the gun went off and we were heading for the water to start the swim. For some reason I found myself caught in the middle of a bunch of crazy guys who were serious about getting after the swim and I had to keep up with the pack. I really didn't have a choice at the time, but in hind sight I can confidently say that starting in the very front was a bad choice on my part. Quickly I figured out that I'd rather run with the bulls in Spain on any given day than try and swim with humans only using one arm. Seriously, it was really that bad.
MAYBE SWIMMING WITH ONE ARM ISN'T THAT HARD?
Be that as it may, I swam as hard as I could with one arm at my side and the one other doing all the work. After getting kicked in the face about fifty times I thought about quitting but then thought to myself, "COWBOY UP and Keep Going!" Rounding the last buoy in the lake I thought this had to be the longest 26 minutes of my life. Wait, I swam that in 26 minutes?? As I quickly did the math in my head I thought to myself, "I actually might have a shot at not getting last!" Granted, clocking in at 26 minutes for a 1500 meter swim is VERY slow but if I knocked out a fast bike and run then I would be able to catch up to the rest of the pack and then some.
MAYBE I WON'T BE LAST
After the swim I stripped off my wetsuit and hopped on my bike. Starting thirty minutes behind the first wave of swimmers I was thinking to myself "Just do what I can and have fun." And by the time I was finishing up the 25 miles on the bike I noticed that I was passing some of the athletes in the first wave! "WHAT?? REALLY? You mean I'm not going to get last?" I had caught up with most of the guys and I couldn't believe it.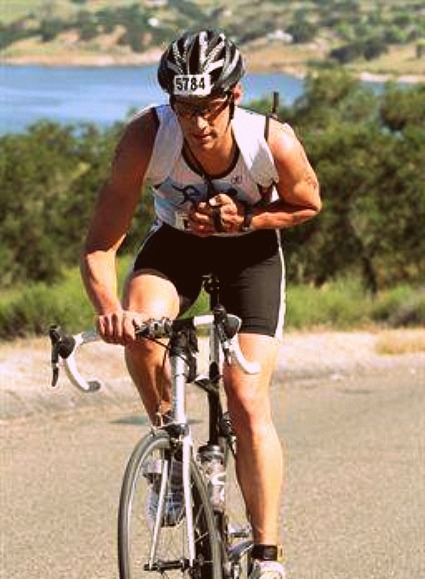 Biking with one arm and still killing it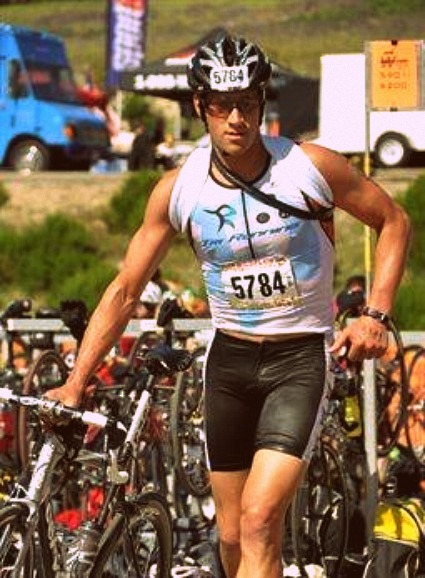 Caught up and ready for the run
RUNNING ONE-ARMED 6-MINUTE MILES
Knowing that I had caught up at that point I ran as hard as I could for the last leg of the triathlon, which was a 6 mile run. I crossed the finish line exactly at 38 minutes (a 6:09 minutes/mile average) and received 11th place. Again, not an unbelievable accomplishment but it was okay – especially for a guy with only one arm. Getting 11th place was great and all, but I was more proud of the fact that I put myself through a ridiculously tough test and pushed my way through it to the end. I think dad would have been proud, that's for sure.

Smitty finishes the triathlon in an incredible 11th place
I COWBOY UP, DO YOU?
In any situation, when the chips are down, we have to ask ourselves if can we can cowboy up, get back on the saddle and have the drive to follow through? In this situation, I think I did and I feel pretty good about it. Call me crazy, but I hate excuses. If someone asked me about my race, there are two ways I could answer the question. "Yes, I challenged myself and finished!" or I could say "no" and whine about how my shoulder held me back, blah, blah, blah. No one wants to hear a person give excuses. I believe in life there are no second chances. Every moment is a test you can take and you can only take it one time (ie. a job, a relationship, a race etc..). If you have a shot at victory make damn sure you take it and don't be afraid to fail.
Even with one arm I knew that I wasn't going to win, but I was going to get after it and give it my all. In other words, I cowboyed up and I'm sure I'll do it again. Will you cowboy up when the time comes? I sure hope so.