Marengo On Union in San Francisco — An Awesome Place To Eat For A Date Night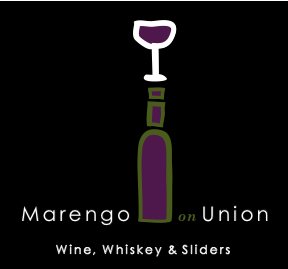 It was my first time eating at Marengo on Union (which is located at 1980 Union Street in San Francisco's Marina district) and since I'm from the Midwest, the first thing I think of when I hear the word "sliders" is White Castle. This isn't necessarily a bad thing, I love me a Crave Case of gut bombs as much as the next guy, but I never usually enjoy them anytime before 3am. I quickly learned that these sliders are different, tastier than the White Caste I'm used to and even though they're more expensive, they're totally worth it. Here's how my night went.
I went here for a date night with my wife and when we showed up it was the traditional small and intimate setting that is pretty much the standard for most SF restaurants. This also means that you're almost always going to have to wait to be seated, but this wasn't a big deal for us thanks to the Whiskey Bar in the back (that has a glass roof that opens up to let in the sun). We headed back there and had a few drinks while chatting with some of the others who were also hanging out. There was good music, nice bartenders and they came back and grabbed us once our table was ready.
Once we got to the table we made some quick decisions on what we were going to eat. For an appetizer we went for the queso dip and for the main course we ordered two sliders each and they were made up of the American, the Shroomer and the Crispy Chicken. I also put in an order for some sweet potato fries — it was a Friday and I was feeling saucy, so why not?
The queso dip was the bomb and went great with the Belgian beer I ordered. We were both hungry, so it didn't stand a chance and was a great way to kick off the meal. That was just the warm-up for the sliders and sweet potato fries, which came out about 15 minutes later. We both really liked the American slider, which is a deliciously shrunk down version of a traditional cheeseburger, but for me the crispy chicken slider trumped the burger. It was topped with some type of corn salsa that was super tasty and I could have probably eaten four more of them, but I held back.
The atmosphere of Marengo on Union is upbeat, fun and a little loud, but not too loud to have a conversation with the person across the table. Our bill was reasonable for what we ate — it ended up being about $35 for our food plus a beer, which isn't bad at all for San Francisco. The soundtrack to the background music keeps a good beat going and there are tables that can fit anywhere from two to twelve people so no matter who you're with they should have the room.
We'll definitely head back here for some grub sometime soon and if you're looking for a place to hang with some friends or to take a date, Marengo on Union is an awesome option you should check out. if you have any other questions about this place, let me know in the comments and I'll get back to you as soon as I can.