The Miracle Of A Phone Call From Mo
[box type="note" style="rounded"]
UPDATE (6/1):
I've found a dentist in San Francisco who is willing to see Mo for free! They read his story and want to help, which is an amazing blessing.Thanks to all of you who are helping Mo and I'll have more details soon![/box]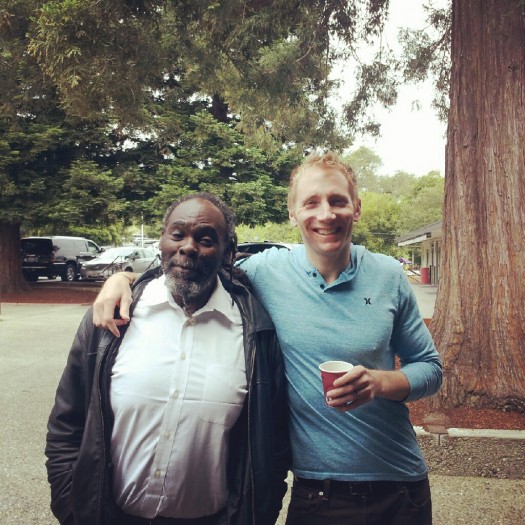 Sometimes you can miss miracles in your life if you're not careful. You can also easily dismiss them as luck or coincidence. This past Sunday I experienced a miracle and since these don't happen too often I wanted to make sure to share it with all of you.
A couple of weeks ago I had talked to Mo about going to church with me and he seemed interested. Normally making plans like this with someone is pretty easy. You can talk about it to gauge interest and then figure out the details over texts or a phone calls. Although this is a normal way to plan things for the majority of us who have cell phones at our disposal, Mo relies on borrowing other people's phones to call me. This means he could call me at any point during the day and I might not hear from him for sometimes days at a time. You can see how this would make it tough to plan a trip to church on a Sunday morning.
This past Sunday I had a fifteen mile long run I needed to get in before I headed to church around 10am. I woke up around 7am so I could run, get cleaned up and head to church without being too late. As I was brushing my teeth in front of the mirror in my bathroom I could barely keep my eyes open. Getting up early on Sunday is still something I'm getting used to and I was doing all I could to keep moving towards getting out the door and starting the two hours of running that was waiting for me on the other side.
As I stared at myself in the mirror I started thinking about Mo and how I wish there was a way for us to go to church together later that morning. This, of course, was basically impossible since it was 7am and I had no way to contact him. At that moment I thought about Mo and said a quick, simple prayer to myself.
"God, I really wish there was a way I could get in touch with Mo so he could go to church with me today." I thought as I shut off the faucet after brushing my teeth. At that moment I felt a sense of helplessness that Mo was out on the streets somewhere and I had no way of contacting him. I really wanted him to be able to go to church and spend the day with me, but it was out of my control.
About five seconds later my phone rings and the caller ID is a number I don't recognize, which usually means it's Mo calling me from someone else's phone he's asked to use. I picked up my phone and answered it as chills moved through my body.
"This is Ryan." I answered.
"Hey, it's Mo!" he screamed into the phone. I think because Mo doesn't hear very well, he's talking somewhere on the side of the road and that he doesn't use phones much he tends to do a lot of screaming when he calls. "Where you at?" he asked quickly.
"Hey Mo, what's going on? I'm up at my place and I'm getting ready to go for a run. Where are you?"
"I'm down at 5th and Brannan, come on down I'll see you here in 10 minutes." Mo was about a block away from where I live. I was excited to see him and I hoped he'd be up for hanging out after my run.
"Cool, see you then, Mo."
I couldn't believe he actually called me. Say what you want, but that type of thing just doesn't happen on it's own. Literally five seconds after asking God for help to get in touch with Mo he calls he from a phone I'm sure he had to talk someone into letting him use. I'm not sure what you call that, but I call it a miracle and those types of things don't happen like that very often, if ever. I recognized it and I won't ever forget that it happened. I was blown away and always will be.
After I finished getting ready I headed down a block to where Mo was standing across the street. We chatted for a little bit and I told him how I wanted him to go to church with me. He said he wanted to go with me and I told him to meet me right there at the same exact spot in two hours and we'll drive over there together. He agreed and I went off on my run.
Almost exactly two hours later I was back and I didn't see him on the same corner and for a minute I thought he wasn't going to be there. Then I turn the corner onto my street and there he was, sleeping on the sidewalk next to a brick building that's about half a block away from where I live. He knew I'd be running right by there and apparently wanted to make sure I saw him so I could wake him up.
I nudge him until he's up and once he's up and moving he tells me he wants to put on his nice white shirt and black pants since he needs to clean up a bit if we're going to church. We both get ready, hop in the car and head down to church together and it ended up being an awesome day we got to spend together. Everyone at my church loved meeting Mo and he even got a shout-out from our pastor Gary, which he thought was really funny.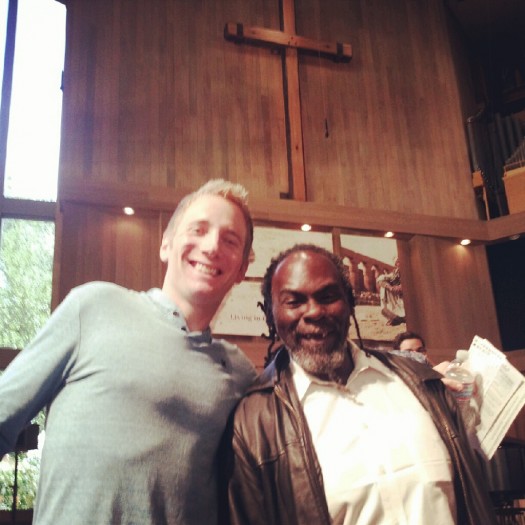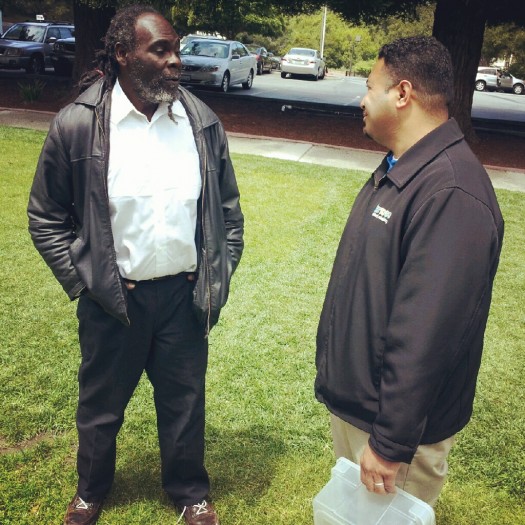 After church we went to Chipotle to hang out for a few and then made our way back up to San Francisco. It was great getting to spend some time with Mo and he's a really good guy who has an amazing (and crazy) story. Every time we get to spend time together I learn more about him and it makes me even happier to know that we've become friends. He still has a long way to go and being in a relationship like this can be messy, but I don't plan on going anywhere anytime soon. Mo is here to stay and I'll be sure to keep you updated with him as time goes on.
—–
Thanks again for all of you who have contacted me about helping out Mo. I'm coming up with a few ideas of how we can give him the support he needs in a way that makes sense. He needs a lot, but we'll take it one step at a time and together we can really make a huge impact in his life.
I just saw him this morning and one thing that's been really bothering him are his teeth. He's lost several of his teeth already and he's in some serious pain right now due to cavities and who knows what else. If you're reading this and would like to give some money for him to go to the dentist or if you know of a dentist in the Bay Area who would be willing to see Mo for free, please email me at ryan.hupfer at gmail dot com or let me know in the comments. You're all awesome and we'll catch up soon!