Mo Goes To The Dentist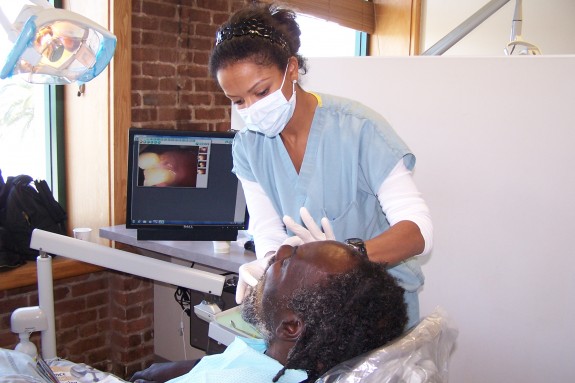 Mo really needed to go to a dentist. He'd been having some major pain from two of his teeth so I did some research on where he could get some help and came up with some options. After making a few phone calls and asking around I realized there are some decent places who could take care of him but the problem is that they all have long wait lists and don't see anyone on an emergency basis.
As another option I called the office of one of my old dentists, Dr. Marquis, and talked to their superstar receptionist Katie (who I've always really liked) and told her the situation. After hearing about Mo, telling the rest of her team and having them reading some of the other posts I had written on this blog they said they would see Mo, free of charge. This made me feel good because I knew they'd take good care of him and I know all of the staff there were friendly and awesome.
As I've said before and I'm sure you've noticed from the photos of Mo, his teeth aren't great to begin with and he's lost a good amount of them already. Even though he didn't want to lose any more of his teeth he was pretty much to to the point of wanting to pull out every, single one he has left if it meant he didn't have to deal with the pain that he was having. Mo was getting desperate. I remember walking around with him by the train station on a windy night and he had to cover his mouth with something or pull his hoodie over his head because his teeth were so sensitive to the cold air he was breathing in. I don't even want to imagine what that feels like.
After getting an appointment for Mo the only other thing I had to do was figure out how to find him so I could tell him about it. I hadn't heard from him for a few days and I didn't have any way to get in touch with him so there's no way to know when I'll see or hear from him next. The first appointment I had for him was on a Friday and even though I usually hear from him at least every other day I didn't get a call from him before then, so that one had to be canceled. I told Katie how they needed to be flexible and they were totally cool with keeping a spot open for him. I remembered Katie telling me "You let Mo know that he can come in first thing Monday morning and we'll take care of him." Her awesome attitude made this whole situation a lot easier.
I finally ran into Mo a couple days later and let him know the good news about his appointment. When I saw him his teeth were hurting him so bad that he had wrapped a rag around his head to keep pressure on his head. It's like something I'd seen in a cartoon and seeing him wear it made me laugh but he said it actually helped with the pain. Whatever works I guess.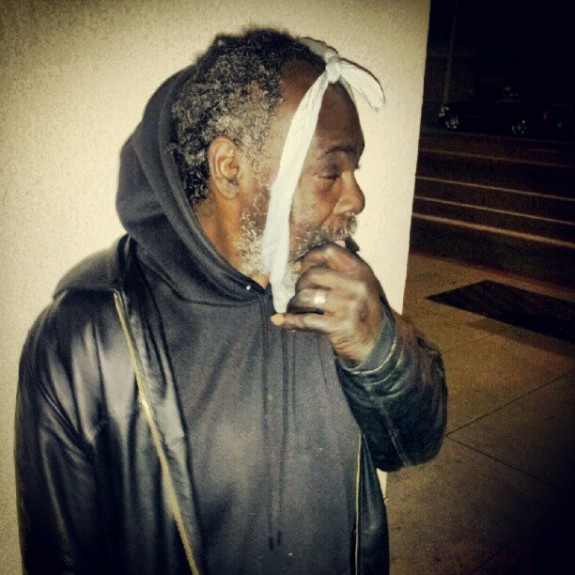 I told him about his appointment at the dentist for the following day and his spirits were lifted immediately. I also told him to meet me in the morning on the corner by my apartment and I'd give him the directions. The next morning he showed up, I told him where to go and Dr. Marquis gave him a full dental exam and X-rays. The good news was that he doesn't need to have any of his teeth extracted, he only has a couple of bad cavities that can be drilled out. The bad news was that he was going to have to wait another week to get it done.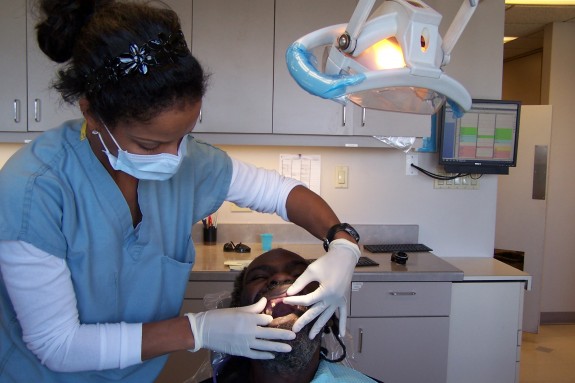 Oh, and I guess I should mention that Dr. Marquis is also going to fill his cavities for free. How amazing is that? What an incredible blessing for Mo.
So this Thursday I'm going to head to the dentist with him and we're going to get his teeth taken care of. Thanks for all of your help, prayers and gifts you've all sent my way for Mo and keep it up — there's still a lot he needs help with.
—-
I'm going to set up a donation page for Mo here soon, but if you feel like you want to give something to help him out you can PayPal the money to ryan.hupfer-at-gmail.com. I'll email you back with details on what your money will be going to so you can keep in the loop. One thing I've been trying to help him out with is staying off the streets at night, which costs $10/night. He rents out a bathroom in a hotel and stays in there, which isn't the greatest option in the world but it's warm, it's safe and he can stay cleaned up.