Mo Shows Off His Cooking Skills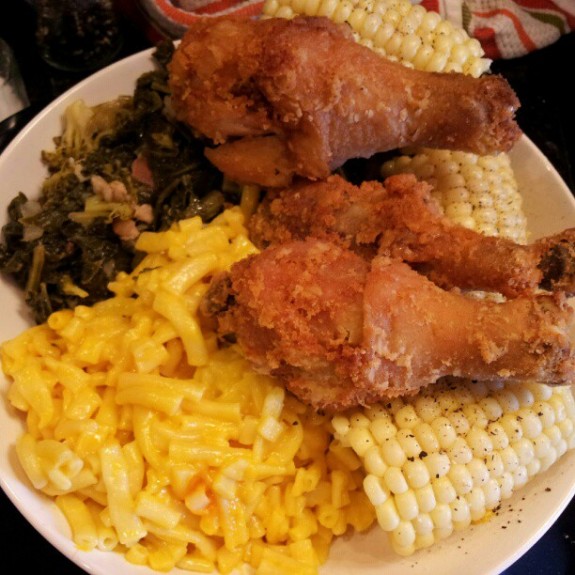 As I'm writing this with a belly full of delicious southern-style cooking I'm wondering why I never had Mo cook for me before. It's not like he hasn't talked about it. Go ahead, I dare you to bring up how you cook your favorite dish. He'll quickly tell you how you're missing something important and that he has the best way to cook it. In fact, not only will he tell you how to cook it, he'll show you with the animation and energy that only Mo has. It's quite a show and I've seen it happen many times over the past few months.
Once he starts it's hard for him to stop and it's actually really entertaining for me to watch. Cooking greens? Well you'll need to make sure to let them cook this way or that way and you can't forget to do this to them or they're just not going to end up with the right taste. Oh, you're going to cook some ribs? Then you better make sure that you put on the right type of seasoning and cook them for the right amount of time or they're not going to be falling off the bone like they should be.
In other words, I had always heard about how Mo knows his way around a kitchen but for some reason I had never had him cook anything for us before. This is most likely due to the fact that I don't really dream about food like he does and when I do eat something it usually consists of my four main food groups — hummus, carrots, salami and cheese. I guess you can throw some salads and naan from Trader Joe's in there, too but these are things that Mo doesn't even consider to be edible. He actually makes fun of me for the fact that I don't have any "real" food that he can eat. Yes, that's right — Mo, who has been homeless for four years makes fun of me for not having the right kind of food in my refrigerator. I guess that everyone has their opinion.
Anyway, today after we went down to church I decided to skip the usual trip to Chipotle. Instead, Mo and I made our way back up the 101 to San Francisco and made a stop by good ol' Trader Joe's. I told Mo that I wanted him to make us some dinner and that he could buy whatever he wanted/needed to make that happen. I gave Mo a blank check for what I'm sure was his first trip to Trader Joe's and after seeing all of the things he could pack into one of their hand baskets I started to wonder if it was the right thing to do. Here's some of what he ended up buying:
Corn on the cob
Flour
Smoked bacon
Chicken legs (he couldn't find turkey feet)
Multiple bags of different types of greens
Broccoli
Seasoned salt (which unfortunately wasn't Lawry's, his favorite)
Macaroni and cheese
Chips
Canola oil
lots of other stuff that I can't remember
About 45 minutes and $80 later we're walking out of Trader Joe's with all of the ingredients for a meal that even Mo would be proud of. He was already talking about how good it was going to be and I was willing to skip lunch so I was hungry enough to enjoy it.
Soon after we got back to my apartment Mo took total control over the kitchen and it was impressive seeing him go from one thing to another. He filled up my sink with greens that he chopped up and before you know it he was cooking those down in a huge pot. It didn't take long before delicious smells of whatever he was working on started reaching out into every corner. He was all over the place and for someone who hasn't cooked a full meal like this in about ten years he seemed to know exactly what he was doing.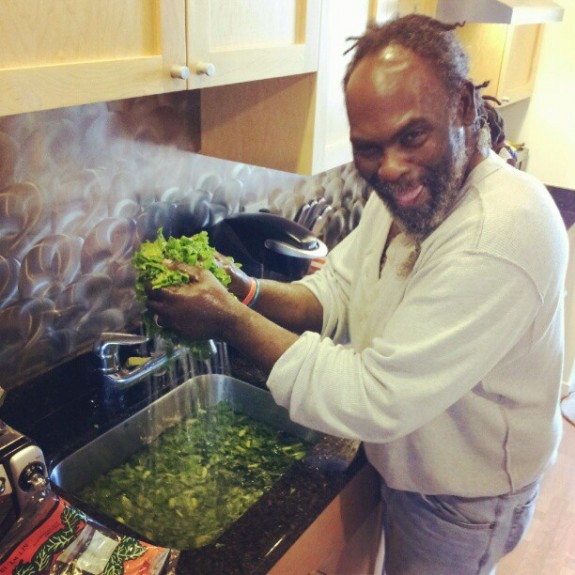 At this point Mo had taken over my kitchen and I just got out of the way. 
As the greens were cooking he started working on the fried chicken. He covered each of the chicken legs with some flour and seasoning and laid them carefully in the hot canola oil that was already heated up in a pan on another burner. Soon, all four burners will filled with some of Mo's magic — greens, corn on the cob, macaroni and cheese and fried chicken. The whole time he seemed to be having a lot of fun and even started singing while paying half attention to his cooking and the other half to the NFL game on the TV. I could tell that Mo was cooking up a masterpiece and it didn't take long before I was filling up my plate with a little bit of everything that he had to offer.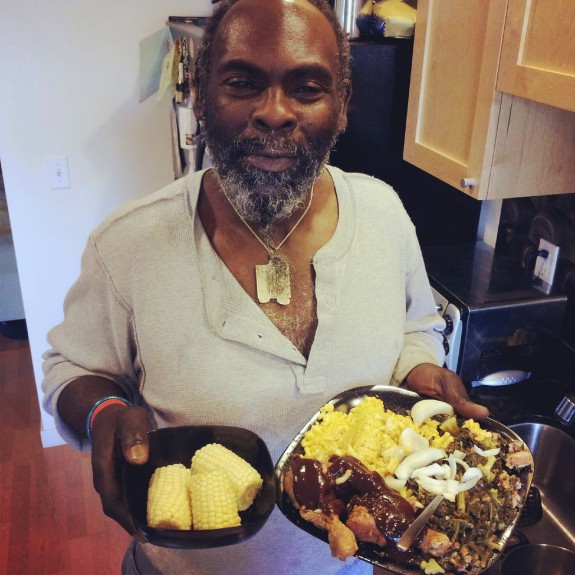 The proud chef and his masterpiece.
Fried chicken? You know it. Mac 'n cheese? Yes, please. Corn on the cob? Bring it on. Greens? I thought you'd never ask.
I piled it all on my plate, we gave thanks and then I finally experienced the awesomeness of Mo's down-home southern-style cooking. Mo ate, I ate, Mo laughed at me while saying "look at the white boy eating greens". It was pretty epic.
I quickly cleaned my plate and went for seconds before Mo could start to think about it. Every single thing he made was stupid good and even though I had heard him talk about how amazing his cooking was I felt a little ridiculous for not doing this sooner. Mo has some serious skills and I can't wait to see what he cooks up next.