Well, today was the day. The day that I've been anticipating for over a month now since I decided to move to China and learn Mandarin Chinese. Now that it's here I feel great about the decision and even though it took a good amount of digging to find the Hainan Premier Language school in Haikou, it was totally worth it.
Having some structure is important for me
I was looking forward to having classes in the morning during the week for a couple of reasons. The obvious one is that I'm going to learn the Chinese language, which is super bad ass and I'm totally excited about it. The other reason is a little more nuanced as it has more to do with getting me on a regular schedule, which I haven't been on for a while now.
If you asked people if they like to be forced into some sort of structure during their workday many would respond that no, they don't. But, take them out of that structure and they won't know what the heck to do with their time and energy. I've realized that I'm one of these people and having just a little bit of structure to get me up and ready to roll in the morning is super important.
What I learned on the first day of class
So this morning I got up, worked out, and was in the classroom by 9:30am where my teacher and one other student were waiting to get the party started. For the next few hours we dove straight into some of the basics of the Chinese language that will build the foundation for everything else to come.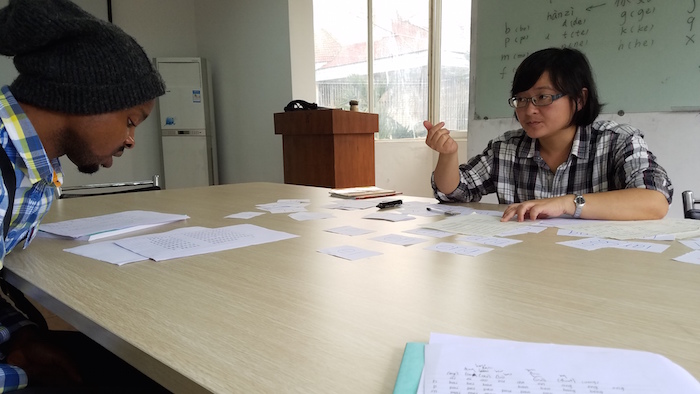 Here are some of the things that we went over in the first class. It was a lot to take in, but the pace was good and I already feel a lot more comfortable with the Chinese language.
Pīnyīn, Initials, and Finals
We started off the lesson with learning Pīnyīn (peen-yeen), which is the method of spelling out Chinese Mandarin in Roman letters and tones. If you ever see someone typing in Chinese characters on their phone, they find them by using Pinyin on a traditional Roman letter keyboard.
Pinyin is split up into the Chinese version of vowels and consonants, which are called initials (the beginning of words that are like consonants) and finals (the end of words that are like vowels and include the tones).
An example of initials and finals for nǐ hǎo (hello) are below, where the first letters are the initials and the rest of the letters in the words are finals. You can see the tone symbols above the i and a in both of them as well.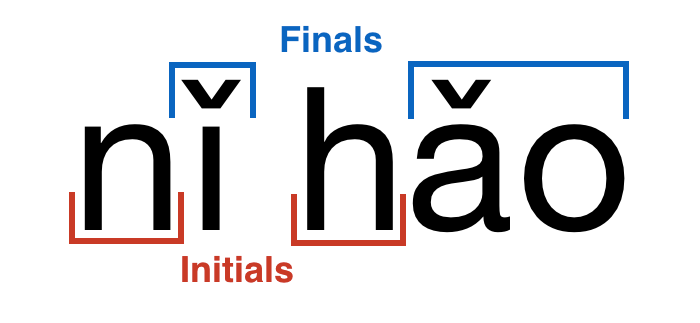 The initials are split up into different groups depending on how they're pronounced. Some are very similar to how consonants are pronounced in English, like the letters b, p, m, and f. These are called labial initials.
Others, like z, c, and s are sounds that we don't use in the English alphabet and are pronounced by keeping your tongue on your teeth while talking. I'm guessing that's why these are called dental initials. These initials are going to take a lot of practice for me to get used to, but I'm already starting to feel more comfortable saying them and it's only been a few hours. I was cracking up while practicing them today because I felt like a complete idiot, which was a lot of fun. I'm sure they will feel normal here soon.
The last thing that we learned were tones, which are what everyone brings up as the hardest part of learning Mandarin Chinese. I definitely agree that they're going to be tricky, but I also think they're kinda cool.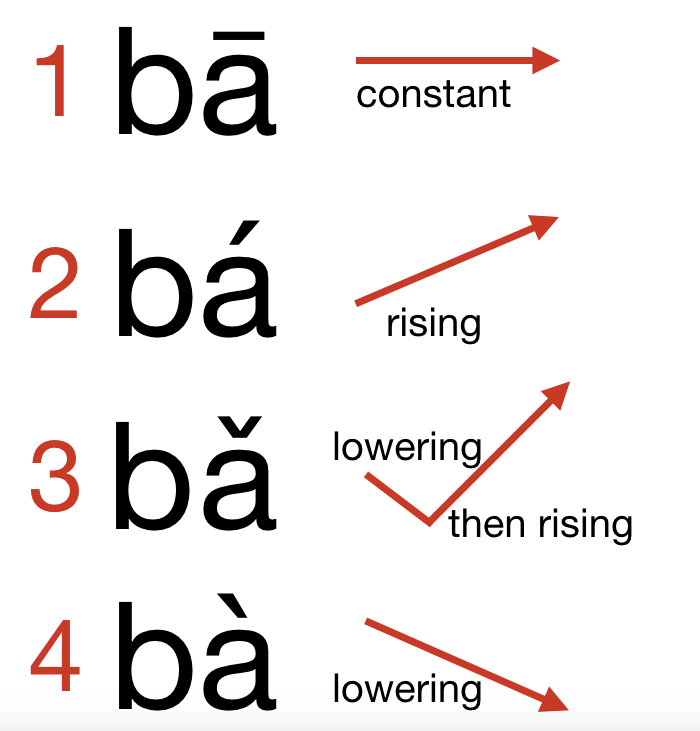 There are 5 tones if you include when you don't use a tone, which is a little confusing, but that's how it works. The other 4 tones are pretty easy to understand and I picked up on them pretty quick. It feels like learning a programing language to me — all I need to do is figure out the patterns and then apply it to other situations. Yep, I'm a nerd.
A good start and excited to learn more
I know, I know — it's only been one day, but there's something about learning new languages that I really love. I think it has something to do with my fascination of understanding other cultures because a language is at the core of each one.
Anyway, I really like the school so far and I've also met some other students, which makes this place feel more like home and not just somewhere I've been living over the past couple of weeks.
Now, onto day number two. ✌️️