Paying To Punch Strangers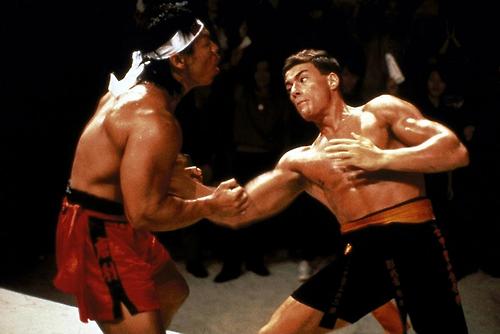 I've been thinking about picking up a new hobby that will most likely involve punching strangers. The sport of choice is Muay Thai, which in my mind is what Jean-Claude Van Damme was doing when he rubbed his hands in glass and fought like a bad ass in Bloodsport (even though I'm pretty sure it's not). I nave no idea how many times I've seen that movie but it's not enough. Instant classic.
I'm going to my first class today in San Francisco at a gym called Fight and Fitness and I'm excited, nervous and a little scared to find out what Muay Thai is all about. I guess the good thing is that I love all of those feelings — they tell me that I'm trying something new that's worth doing. It's easy to always stick with your same schedule and to just do the same old thing so I welcome this type of feeling with open arms all the way.
From what I can tell the first class will consist of me signing my life away, warming up, throwing some gloves on and getting after it for an hour or so. The whole idea of learning Muay Thai just seems really cool to me and I'm curious to see what kind of workout it's going to give me. I've known a few guys who have done Muay Thai and the one thing they always tell me is how hard it is physically. You not only get worked out from a conditioning standpoint but you're also getting punched, elbowed, kneed and kicked which leads to some pretty serious bruises and other self-inflicted bodily pain.
I already love running but throwing in some Muay Thay is going to be a nice addition to my week. I've got a lot on my plate but I have a feeling I'm going to want as much Muay Thai as I can get in my life. Here's to getting in better shape while punching strangers, it doesn't get much better than that.