I'm Running The San Francisco Marathon (For Real This Time)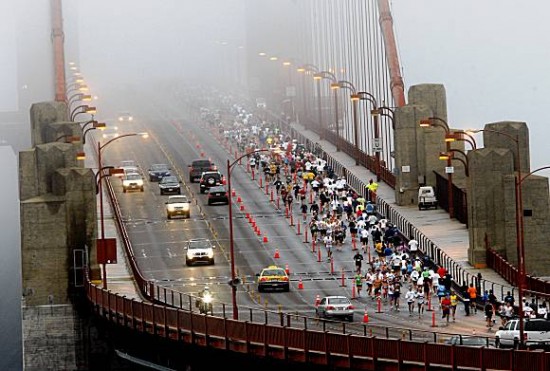 I've decided to run the SF Marathon this year and I have two months to train for it (that's enough time, right?). I'm hoping that the third time's the charm since the last two times I had intentions of running the 26.2 I ended up getting hurt before I could actually run the race.
One year it was my shoulder and last year it was my poor, little pinkie toe. Both times I was just a couple of weeks away from the race but I never made it to the start line. I'm sure it's possible for me to run a marathon without hurting myself beforehand but there's really only one way to find out.
So yeah, I just spent $145 to basically run myself to death which I guess makes sense if you're into this kind of thing. I'm feeling pretty good about running a full marathon at this point but I'm not gonna lie — the fact that I only have nine weeks to train is freaking me out juuuust a little bit. Although saying nine weeks does sound a lot better than two months. Hey, every little bit helps at this point.
The good thing is that I ran a trail half marathon a little over a month ago and for half of that I was literally running up a mountain. I finished feeling good and it didn't take that much out of me so that gives me hope that I can get myself into the kind of shape I need to be come June 16th. I can totally do this, right?
So you heard it here, kiddos — I'm running a marathon and training started today.