Don't Let A Speed Bump Throw You Completely Off The Road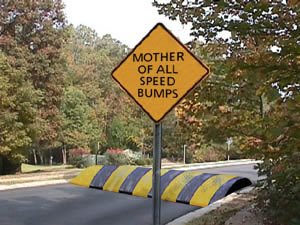 Lately I feel like I've got it all figured out. I'm going to bed early, getting a lot of work done, running like I want to be, praying like crazy and staying connected with the people I care about. Well, except for last week. Last week didn't go as planned.
I had thought through everything I would be doing during the week and was ready to take it on. That all worked well until I ended up staying at my office one night later than I wanted to on Tuesday and didn't go to bed to bed until 2 am. That threw me off for my run on Wednesday (which I missed), got me into work later that day (feeling groggy), made me feel all tired and I didn't end up running for the rest of the week until Saturday. I slept in later every morning of the week after that trying to catch up on my sleep but it never really happened. I was thrown off my game.
"Did you run this morning?" my co-worker Rex asked me on Wednesday when I got into work later than usual on Wednesday.
"Nope." I said as a feeling of shame and guilt hit my gut. "I didn't get up in time, but it's all good – I'll get back into it." I was disappointed in myself.
You see, Rex has been on top of it lately. He runs after work and I can't remember the last time he's missed. He's losing weight and seems to have more energy than ever. We've been keeping each other accountable and it was hurting my pride a bit when he asked me about my recent slacking. Rex is like a whole new man and I didn't want to let him or myself down.
The reality for me was that I was thrown off my schedule by a speed bump and needed to get back on the road. I didn't end up running the rest of the week but I knew Saturday was going to be the day to get back to where I needed to be. That's what I had to keep telling myself, I had to adjust my schedule this week but that doesn't mean I'm totally off my plan. The plan stays the same and it's a matter of when I can get back in synch with it.
Sometimes we let our head tell us we're way worse off than we really are and that's dangerous. Don't let the feelings you have about accepting adjustments or making mistakes take you out of the bigger plan you've put together for yourself. Keep telling yourself that you'll get back on track and eventually you will.
So, today is Monday and I woke up early and ran this morning (it felt awesome). This means I'm back on my schedule that gives me the best chance to do the things I want to do this week. I'm not sure what's going to happen after today, but for now I'm on track and it feels good. Now, onto the rest of the week.