Sundays With Mo Part One – Sunday Morning Until The Beginning Of Church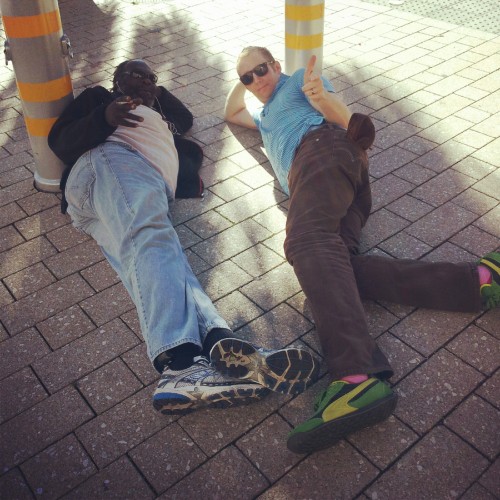 [box type="info" style="rounded"]This is the first of a series of posts about how I've been spending my Sundays with Mo and
here's the second one
.[/box]
For the past few weeks Mo has made dinner for us on Sunday night. This meal is the icing on the cake of a routine that has quickly become something that I now look forward to on a weekly basis. I really feel like Mo has a gift for cooking and I never see him more happy than when he's doing his thing in the kitchen. It's been really great to see him in his element and spending my Sundays with Mo is something that I hope sticks around for a while.
Our routine is simple, first Mo shows up Sunday morning for church. We've been going to the early service that starts at 9am. We then head to the Caltrain station and pick up a couple of other guys who live on the street so they can roll down with us to Redwood City, which is about a 40 minute drive south of San Francisco. This past week we picked up Stewart and Max, two guys who I've gotten to know pretty well over the past few months. When we pull up to the station Mo hops out of the car and goes into the waiting room inside the train station because that's where Stewart will be sleeping.
Stewart will have been there since the Caltrain station opened up that morning and before that you can find him riding the longest bus routes in San Francisco attempting to get some shut-eye. He told me that each trip, one-way is about 45 minutes and if he's lucky the driver will let him stay on the bus while he takes his break before driving back. Stewart has been to church with me before and hops in the back seat. He's wearing his standard do-rag and black hoodie and he seems talkative which means he's gotten more sleep than usual. It must have been a nice bus driver.
Max sleeps outside over by AT&T field and I'll see him sometimes when I'm out doing my morning run. He's from Arizona and has been living on the street for the past five months. I like to catch him in the morning when I can because he's an alcoholic and once he starts drinking he doesn't stop. He lives on food stamps, which is $200/month and has a tattoo of a rosary around his neck that goes down to the middle of his chest. He's forty-six years old but has a full head of slicked back salt and peppered hair that makes him look younger than that. I'm a little surprised to find out that he's going to roll down to church with us but more than happy to give him a ride.
We all hop in and although to most people this would be the weirdest car pool of all time it has somehow become what I do every Sunday. We all drive down together and the amount of conversation we have is directly related to the amount of sleep they were able to get the night before. But, no matter what we talk about Mo, who always rides shotgun, turns the radio to 106.1 which is the gospel station on the way to church that turns to a hip-hop station after.
Once we get to church Mo feels right at home. He's greeted by name and everyone loves to talk to him. People are still getting to know Stewart and it's Max's first time but you would never know it. Although some of the people there look like some of the same people who pass them by without saying a word to them no the streets of San Francisco they're very different. All of the guys are greeted with love and the type of attention and conversation that all humans need but that they rarely ever get to experience.We all take full advantage of the free coffee and after saying our hellos and doing introductions we head in to the service.
Sundays with Mo are great and there's lots more to tell but I don't want to drag this on forever. I'll post Part II later this week when I have some time. I hope you're enjoying reading this and just remember that you never know where your heart will lead you when you open it up more than you ever have. It's been an adventure for me and I can't wait to see where things go from here.
Have an awesome week and more coming soon.