The Magic of Waking Up Early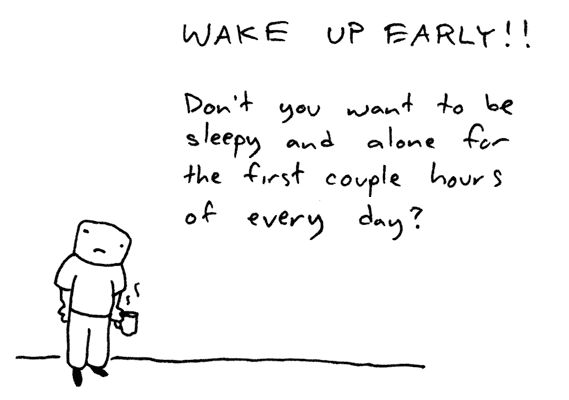 Waking up early in the morning is magic. It gives me the time to exercise, to think, to take out my dog and to grab something to eat. I know I can wake up early, it's just a matter of whether or not I'm going to do the things that it takes to make it happen on a consistent basis. Waking up early once is easy but waking up early consistently is a challenge. Not a challenge you can't overcome though. Here's how I do it.
If you want to wake up early you need to rewind the clock a little bit. You need to pay attention to the time leading up to the most important part of becoming an early riser and that's being an early to bed-er (or whatever you want to call it). When you go to bed be sure to think about and recognize other things that are keeping you away from some good shut-eye. What are you spending your time doing before bed? (usually it's watching TV, surfing the web, reading a book or something similar).
Figure out what you're doing around that time and if it's not something you need in your life, cut it out and gain an hour of sleep. Believe me, an hour more of sleep will benefit your life much more than an hour of Netflix/Instagram/Facebook/YouTube. Nothing in history has been more detrimental to a good nights sleep than the little screens we carry around with us. I struggle with this all the time and when all I want to do is watch another 48 minutes of Breaking Bad on Netflix I need to recognize that getting sleep is better for me in the long run than seeing Walter White and Jesse Pinkman sling some ice. Sounds easy, but hard to do.
If you do start waking up early I suggest doing some type of exercise once you're up. This doesn't need to be anything super-human and can be as simple as doing some push-ups and sit-ups on your living room floor or taking your dog for a walk. What this does is wake up your brain a bit and gets you moving, thinking and ready for your day of work (or whatever you have to do that day). Personally I feel like doing this can take the place of drinking a couple cups of coffee in the morning and it has much longer staying power.
If you're not already into exercising and getting up early you might want to tackle getting up early first before throwing in some exercise, but there's no reason why you can't do both. Also, be ready to be more tired than you usually are during the day for a week or two while your body gets used to it but don't give up if/when you start feeling this way. Your body and mind will resist the change but if you can make it through for 14 days or so you'll thank yourself later.
If done the right way, waking up early will make you more productive, will put you in a better mood and can help get you in shape. I know all of this and still struggle with getting in the groove of making it a habit but once I do there's nothing better. If you have any questions about how to make this happen please feel free to ask and good luck with becoming a morning person. It'll happen before you know it.
—
image credit: toothpastefordinner.com