A Tour of my Room at the Hainan Premier Language School in Haikou
I've lived in some pretty interesting places over the last couple years. In Manila I went from staying in a 4-star hotel with a butler to crashing in a dorm room in a hostel. I also slept in a nipa hut for 3 weeks while in Bohol, which is still one of my favorite spots in the Philippines.
When I'm back in the U.S. I'm all over the place when it comes to where I end up sleeping. Sometimes that's on a Greyhound bus and other times it's at a friend's house, with one of my brothers or sisters, or at my mom and dad's.
Here in Haikou at the Hainan Premier Language School I've actually got a really cool setup that has everything I need. It's minimal, which I like, and over time if I need something I'll get it But, I like to start off with less and see what I need along the way.
My Current Setup
Here are some photos and quick descriptions of how my room is setup right now. I'm up on the third floor of a 4-story building and there are probably another 10-12 students and teachers who are also staying in here with me. I've met a few of them, but with the holiday just finishing up not many have been hanging around.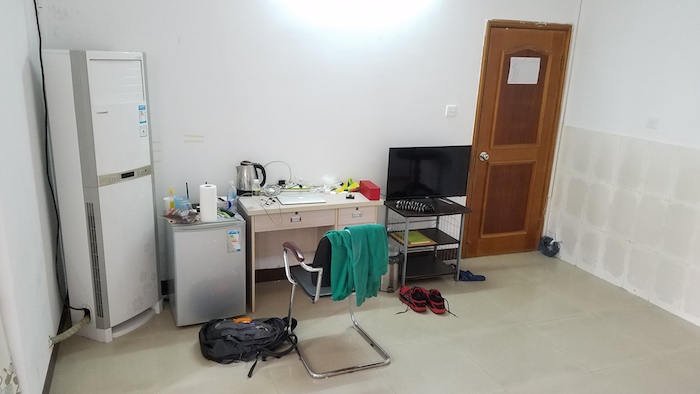 When you first walk in the door there's so much room for activities. There is also a TV that I'll never watch, along with a desk that I'm currently typing this on. Next to that is a little mini fridge and an air conditioner that I'm sure will come in handy once the summer heat hits.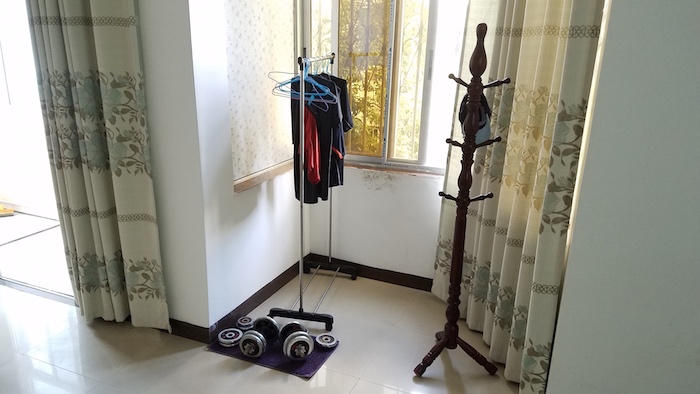 This little nook by the window serves two very important purposes. First, it's where I hang my wet clothes (Chinese people don't use dryers, ever) and second, it's my gym. Well, by gym I mean some dumbbells someone gave me that are sitting on top of a doormat. It's simple, but way better than lifting my bag every day.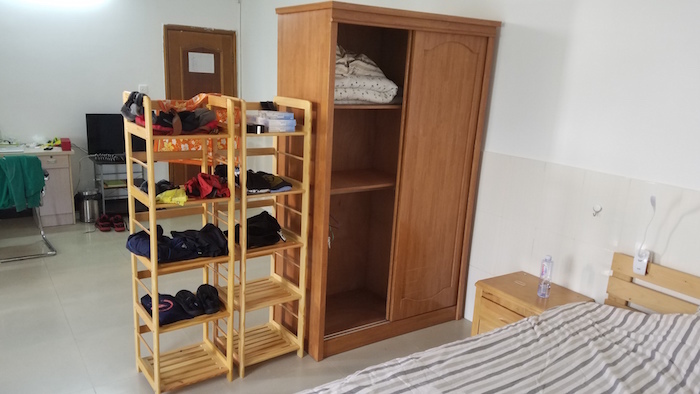 Moving right along, here you can see where I put my massive wardrobe. There are some wooden things that work great as little shelves for my t-shirts and other things and next to that is an empty closet that I'm sure I'll never use. But hey, you never know.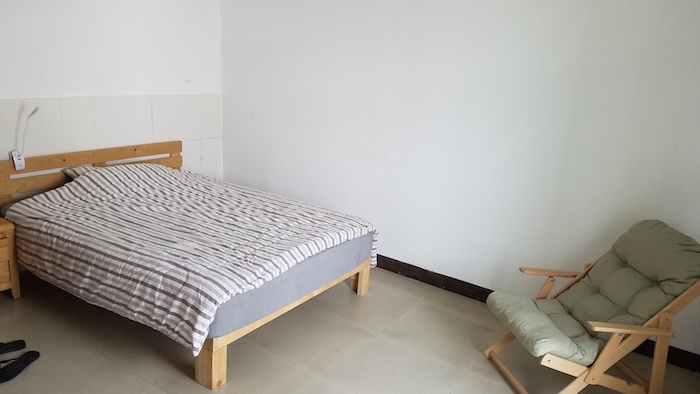 My bed is big, which is a bonus, and the mattress is just hard enough to where I don't want to sleep in it all day long (even though I have a few times already). I have a little nightstand next to it, which is nice and the LED reading light that's hooked to the bed is something I would never buy, but is really handy to have now that I own one. There's also a little chair that I can chill in, which I've used once. It's pretty comfy.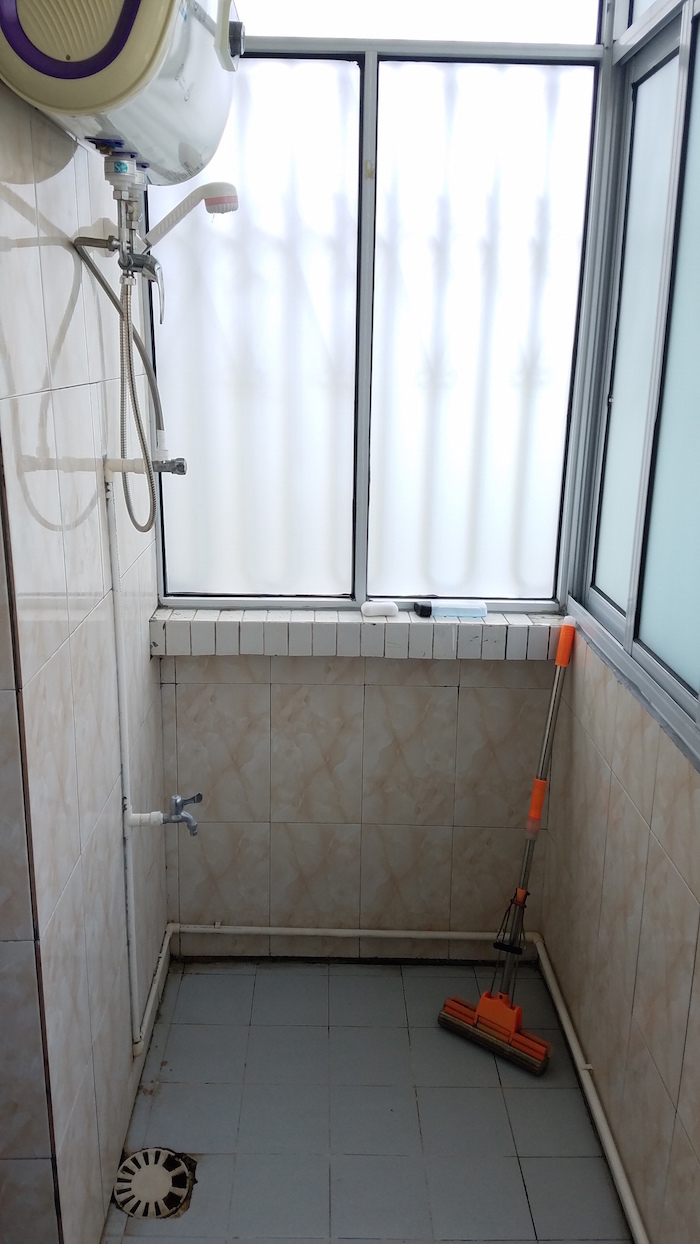 The shower has hot water, which is something I never had at the hostel in the Philippines, but the water pressure sucks and the drain is a little iffy, but nothing I can't handle. The little squeegee/mop thing is to push the water that doesn't go down the drain by itself and to dry off the floor of the shower. I also keep the window open next to it when I shower to give it the "I'm showering outside" feeling even though I'm sure the neighbors can see me, but whatevs.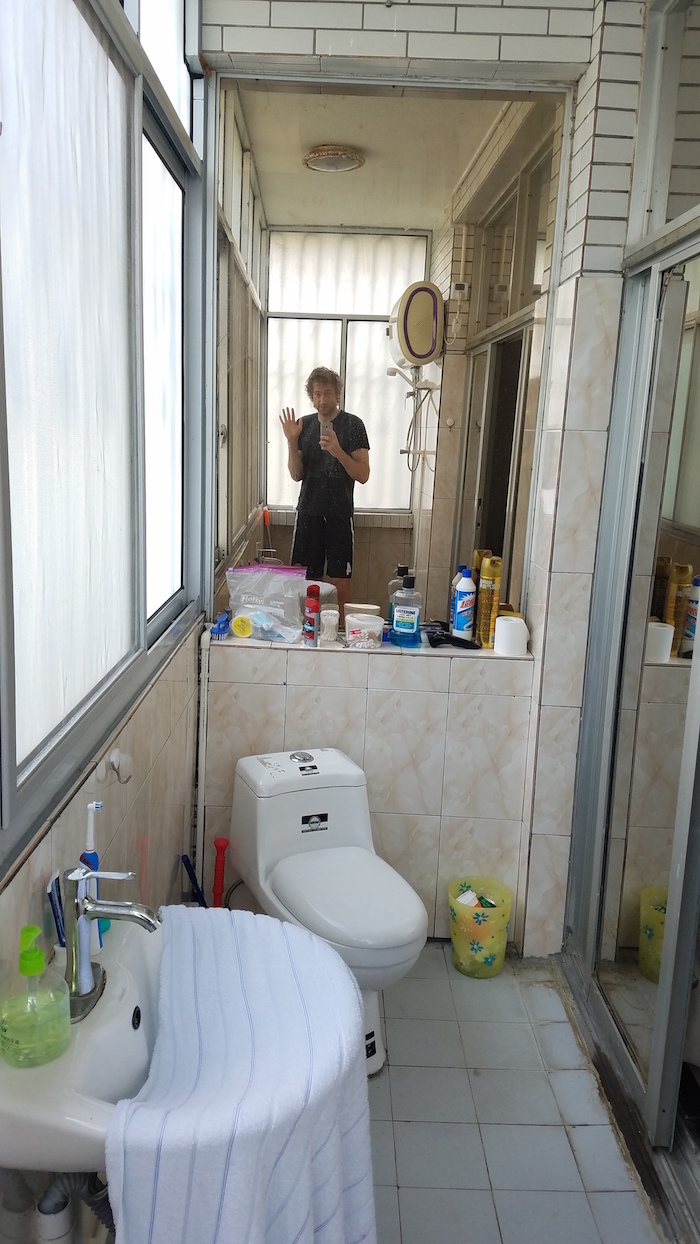 Last, but definitely not least, here's the sink and the toilet. There are mirrors all around it, which is a little weird, but it has allowed me to send my first ever toilet selfies. If you haven't gotten one, just wait — I'm sure it's coming soon. 🚽 📷
My New Home
Well, that's my new spot here on Hainan Island, I hope you enjoyed the little tour and if any of you reading this want to check out the place for yourself, I'm always up for hosting visitors. Like I said, it's not the most amazing place, but it's got everything I need and is already starting to feel like home.