One Hour Obsession: Walk Off The Earth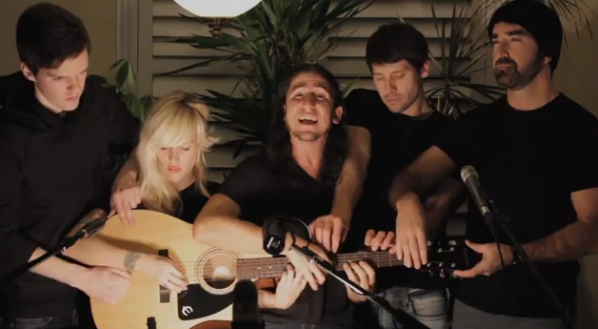 My latest one hour obsession is with a Canadian Indie band called Walk Off The Earth. If you've been keeping an eye on the YouTubes lately you will probably know them better by a song that they covered called "Somebody That I Used To Know" in a video where the five members of the band all played one guitar at the same time. At this point the video has been views over 25 million times with about 50 of those coming from me.
Here's the video I'm talking about. [view on YouTube]
Like I said before, this song is actually a cover which I didn't realize until after I watched the video like 5 or 6 times. I didn't really even think about it being a cover due to the fact that the song seems like it's made for the three people in the band who sing it. All three of them have incredible voices and the fact that they decided to take on the challenge of having all of the play the same guitar was an awesome way to grab the internet's attention.
Of course, having the guy in the beard just standing there being awesome doesn't hurt, either.
The song that they covered was originally sung by Gotye (here's how you pronounce it) and a woman named Kimbra — you can watch it below. [view on YouTube]
I've always been interested in viral videos and the background of how they come together, especially for videos like this one that was intentionally created to become viral. Some videos are so crazy that they go viral for unknown reasons, but this one in particular was planned out and executed in a way that I'm sure exceeded the bands wildest expectations.
In case you're wondering how close the cover is to the original, check out this video that puts them side-by-side. [view on YouTube]
It's interesting when something like this happens to a someone who's ready for it, like a band, as opposed to someone randomly getting a one-hit viral wonder because the pay-off it much better. The fact that Walk Off The Earth already has a solid following on YouTube and has been posting videos for a long time feeds the public's interest in them once they hit the big time with their viral video. This means that they can leverage the attention they're getting into selling more of their music, booking more shows and potentially getting a label deal (if they want it). In other words, they're prepared for the success that they're having, which means that it's going to benefit them for the long term and not just help them sell a few songs though iTunes.
If you're interested in learning more about how the video was shot (26 takes for about 14 hours in a kitchen) and the effects of having a viral video of this magnitude you can watch video of an interview below that was posted when their video had around 10 million views. It's long, but there's some good stuff in there. [view on YouTube]
It's going to be fun to keep track of these guys and see what happens from here, but for now I'm going to listen to their song (that I've downloaded from both Amazon and iTunes) a few more times.
UPDATE: It looks like things are about to get even crazier for these guys — they just got booked on Ellen for a live performance of their video. No pressure, guys.