The 610 Stompers Make Their Way Into The Big Time
Another Thanksgiving and another Macy's Day Parade. This time around however, there was something different. Something that stood out from the traditional cheesy performances that I'm used to seeing (like Nickelodeon stars or groups like this).
This year's parade, however, showed the world what real entertainment is all about. This year's parade was the year of the 610 Stompers. With the tagline of "Ordinary men with extraordinary moves" they made their way into the Macy's Thanksgiving Day spotlight and made their presence known.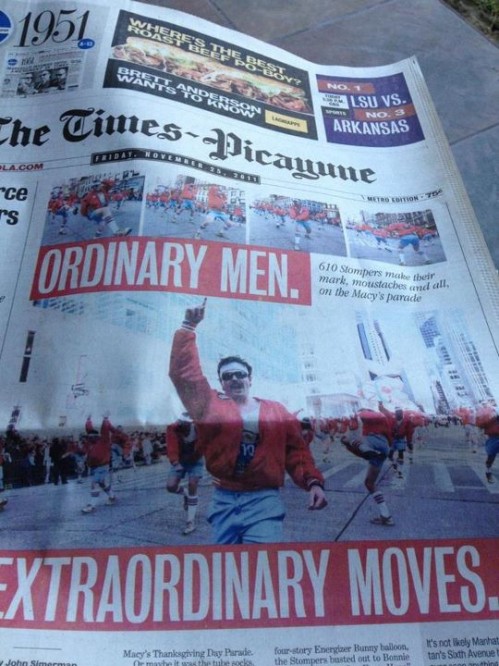 The 610 Stompers are a group of guys from New Orleans who want to show the world that it doesn't take a Broadway show to entertain the masses — just a group of ordinary men with some sweet moves. Here's how the 610 Stompers describe what they're all about:
[quote]The 610 Stompers is a diverse group of ordinary men, from their 20s to their 60s. We are doctors, lawyers, professionals, laborers, students, teachers, and parents. We are different but we're the same, and we're brought together by our ongoing desire to entertain the world with our "Extraordinary Moves", and in doing so, give back to the community that we love.[/quote]
I'm not sure how they made their way onto the big stage in the middle of New York City, but I have a feeling that the Macy's Day Parade was their big break. We're going to be hearing more about these dancing from here on out and I don't think that's necessarily a bad thing.
Need some more 610 Stompers in your life? I can't say I blame you. Here are a few more appearances they've made over the past couple years.
At the Hornets/Lakers game (they inspired the Hornets to a win)

Their debut performance in New Orleans

Here's a great article about the 610 Stompers and their rise to Macy's Day Parade fame. Awesome.
Big props to Brett Patron who's the leader of the group and who also happens to have an amazing mustache.