Furniture Shopping with Warren
"Are you traveling for the holiday?"
After hearing this I looked over and saw an older looking Chinese man in a blue hat, sport coat, and dark pants who was looking up at me enthusiastically. I was wearing my normal running gear – some short-shorts, t-shirt, and gray hat. I had intentionally taken out my headphones I was wearing so I could soak in some of the sounds of the local scene. I also do this so if someone feels comfortable enough to walk up to me and say hello I can hear them loud and clear. I guess it works.
So, back to the guy in the hat. He was waiting for me to answer, but considering that no one else all morning had been able to speak English to me, it took a few seconds for me to find the words. I told him that I had just moved to Haikou to learn Chinese and with very impressive English he told me how he was in Hainan for the holiday (Chinese New Year) and that he ran a school that taught English in the northern part of mainland China. He told me where, but I had no clue where it was as I nodded my head in a way that said otherwise. I mean, I know the general area, but come on — China's a big place.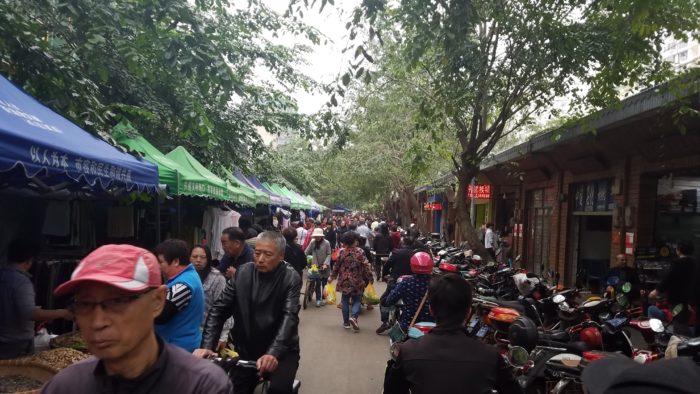 One of the local markets near where I live
His English name was Warren and when I told him that I was searching for mantou, which is my favorite kind of bread in China, he amazingly told me that he was also on his way to go buy some. Mantou, which is white, fluffy, and super delicious bread from the Chinese gods, is very common in most places I've visited in China, but apparently in Haikou there are just a few people who sell it.
So, I followed him to the spot and we bought some mantou together. They only cost 1 CNY each (around $0.15 USD) so I loaded up on a bag-full. Next, Warren took me for a quick tour through a market that was packed with people who were chopping up meat and selling fish. He bought himself a couple of the fish he liked and we headed out of the building with no real destination in mind.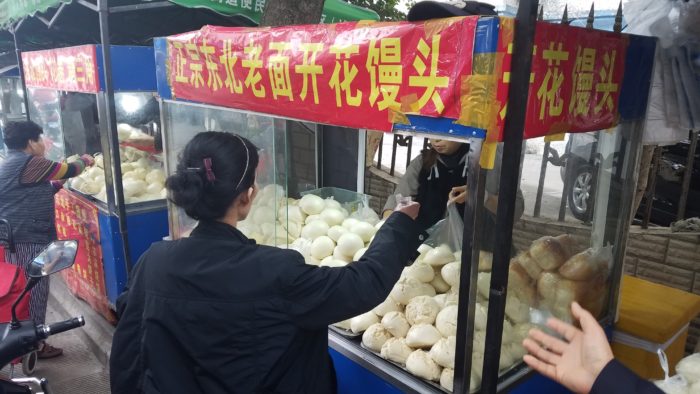 The mantou motherload — I'll definitely be back here again
We exchanged WeChat accounts (the chat app that everyone uses here) so that we can stay in touch and then, as I thought I was going to head back to my place, he offered other plans.
"I need to buy some furniture", he said to me as we were figuring out our next moves. "Want to go with me?"
"Sure", I said and off I went down the street to go furniture shopping with Warren. I don't start my Chinese classes until February 6th, so my schedule was wide open and as usual, I'm always up for something a little bit different. I've never gone furniture shopping in China before and Warren seemed like a nice guy, so why not?
So, for the next hour or so I walked around with Warren and a woman at the furniture store who showed him around. Every now and then Warren would ask me some advice on things like a pull-out sleeper couch and if it would be good to sleep on long-term. He also pointed out a few chairs detailed with intricate bamboo designs that his wife really liked and told me how the wood that they made the pull-out sleeper sofa out of was very strong and could last a long time. I tried to help out as much as possible, but I'm not exactly an expert on furniture these days.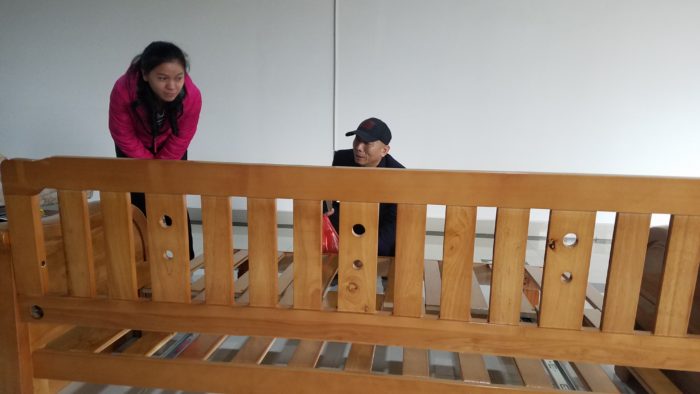 Looks like a solid couch to me, Warren
Eventually he finished his inspections and as the woman started writing an order down on her pad of paper I realized that Warren had decided to go with the couch we spent so much time talking about. I'm sure my deep and insightful thoughts on it's practicality sealed the deal for him.
After the woman wrote up the order he pulled up his WeChat app, scanned a QR code that was taped to the counter, and sent over 3,800 CNY for the couch (around $550 USD). It was quick, easy, and as we walked out of the store I looked over at him, smiled, and said "Well Warren, you've got yourself a new couch." while patting him on the back.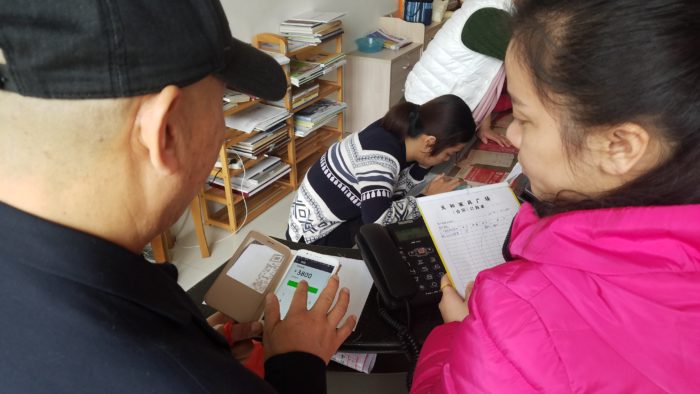 This is how you buy a couch in China — WeChat makes it super easy
Before we parted ways he invited me to a dinner later on this week with his family (which I quickly accepted) and pointed me in the right direction to get back home. I ended up having a lot of fun hanging out with Warren while he was buying furniture and I can't wait to see him again — especially if he's cooking food for us.
These are the types of things that I really enjoy and look forward to while exploring new places — getting to know local people and experiencing the city from their perspective. It also makes me really excited to start learning Chinese so I can start having these types of interactions with all of the other people living here who can't speak English like Warren (which is pretty much everyone).