Homeless Mo Goes Viral Thanks To Reddit — A Step-By-Step Recap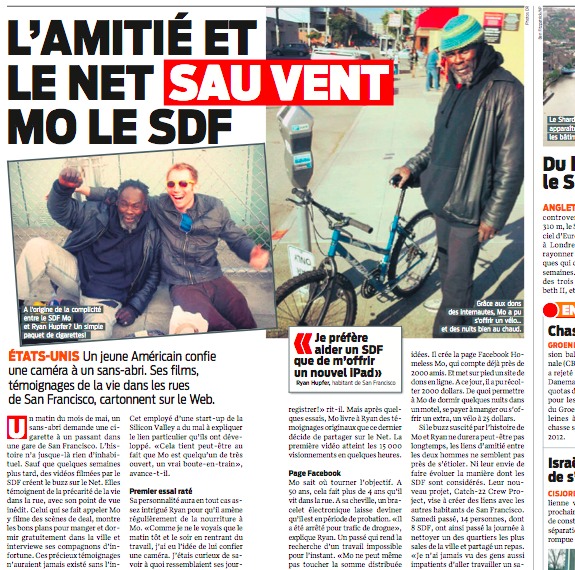 I finally have some time to sit down at my laptop and make some sense of all of the stuff that has happened with Mo over the past few weeks and it feels good. All of the things that happened with Mo and the fact that his story went viral all over the world is incredible, but it's also tiring and slightly addictive. When the real time web decides that it's chosen you to be the flavor of the day you better hold on because it's one heck of a ride.
When Mo's first video was rising up the ranks over on Reddit I was doing my best to keep up with the comments and to make sure that the story was being told the way it should be. There were lots of early critics with what I was doing with Mo but thanks to some of the past posts that I had on my blog (like this one and this one) and some of the earlier videos we had together (like when he got his new shoes) when the Internet trolls went digging into my story there was plenty there to back it up. All of this attention has helped Mo raise over $2,000 which means he'll be off the streets and eating everyday for the next couple of months and it's also created a new awareness around homelessness that's affected thousands of people. There's still a long way to go, but this was a great way to start.
Before too much time passed by I wanted to make sure to post up a good overview of how Mo's story spread so I gave this story the respect it deserves. I'm going to do my best to recreate a step-by-step recap of Mo's rise to international Internet fame through all of the experiences that have happened since I first posted Mo's video on Reddit. Here goes nothing and let me know if there's anything I forgot.
Mo Gets Some Video With A Flipcam
A few weeks back I gave Mo my flipcam so I could see what his day was like and find out what other homeless people's stories were. After a few tries he ended up getting some really good interviews that chopped up and started posting online.
The first interview was with a man named Andrew who had only been homeless for two weeks. Mo interviewed him in a very personal way and Andrew really opened up about the tough situation he's found himself in. I decided to post that video over on Reddit's video section and titled it "I gave my homeless friend a flipcam and now he's interviewing other homeless people. Here's one of them." Looking back I feel like the title was really important and for some reason it really caught the attention of the Reddit community.
Mo Says Hello To Reddit
I posted the video around 3am and before I went to bed it already had several comments and upvotes, which means that people were really liking it. The more upvotes and comments you get the more visibility your post gets and when I woke up the video was already near the top of the video section. It eventually went to the top of the video section and even made it to the very front page of Reddit, which meant thousands of people were watching it.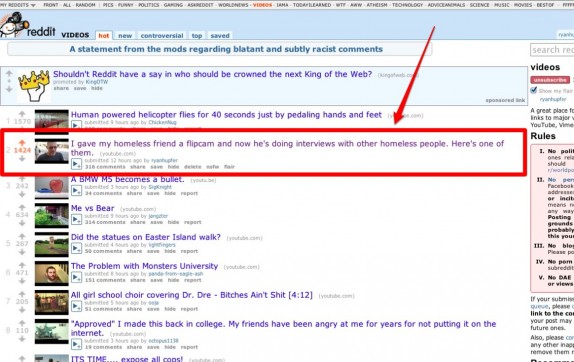 Mo's video was at or near the top of the r/Videos section on Reddit for over 24 hours. 
When something like this happens you start to feel really funny. It's exciting and you want it to keep on going higher and higher so you can get more and more attention. My video was at the top of the video section for over 24 hours and ended up making it's way up to the very front page for a couple of hours. That means serious traffic and Mo's video was well on it's way to being viewed over 100k times.
At the height of the video getting viewed on Reddit Mo's YouTube account was literally getting 1-2 subscribers every minute. Here's what my email inbox looked like. It was nuts.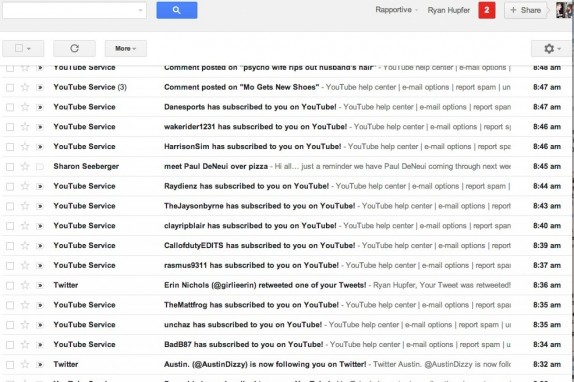 Mo's YouTube channel was getting 1-2 subscribers per minute for most of the day.
I was also getting a lot of new Likes on Mo's Facebook page. Every time I would log in to his account this is what the notifications would look like.


Mo's Facebook page was getting lots of likes.
Mo Gets Covered In Business Insider
Soon after the Mo and Andrew's interview became the most popular video on YouTube the press came calling (emailing to be exact). They sent me messages through Reddit, Facebook, Mo's gmail account and YouTube. It was a crazy keeping up with it, but I was all about getting Mo's story out there and they were excited to get more details.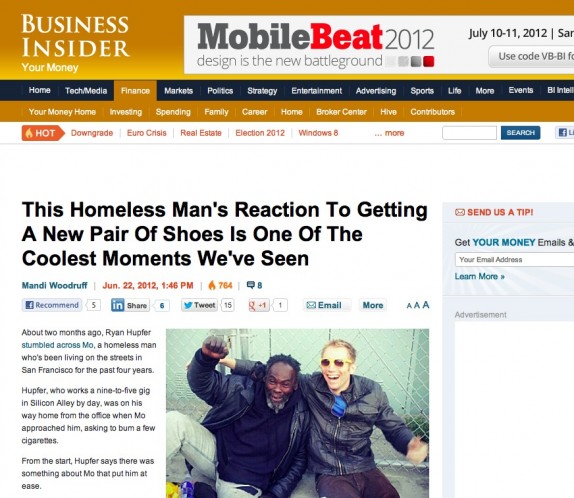 The first site to cover Mo's story was Business Insider. 
The first real coverage we got was this post on Business Insider and it was posted even before they  interviewed me. Once again, it was valuable that I had already blogged about Mo several times before his video went viral because it enabled anyone who wanted to write about Mo's story could to go to my blog, grab some photos and quotes and not even have to talk to me before they posted something. That's exactly what happened with this first post, the photo they used was taken from my blog and so was this quote:
"For some reason out of all the homeless people I've talked to, he's stuck around long enough for us to become friends," Hupfer wrote on the blog he's using to chronicle his visits with Mo. A non-smoker, he convinced Mo to settle for a meal at Subway instead. They've been pals ever since.
Mandi Woodruff, the writer who posted this first story, interviewed me later on that day to get more of the story and then posted something else about Mo on the following Monday. In this second post Mandi went into deeper detail about me and Mo and was able to get more of the story from me since we talked on the phone. There are some good quotes in there and she linked to my blog, Mo's donation page and other relevant content that I had out on the web. The media loves having all of that stuff to link off to and it's great for letting the reader fill themselves in on the details that can't be squeezed into the post.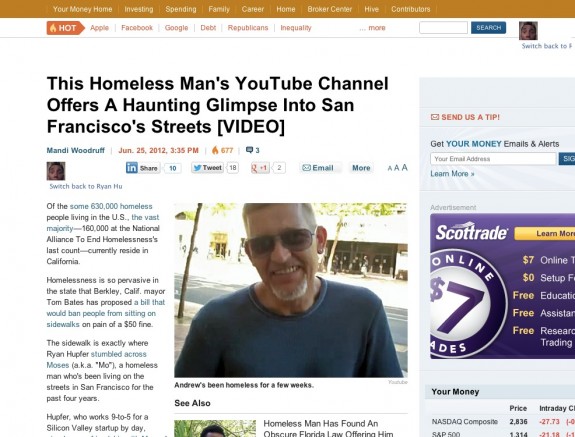 Mo's story was feature on Business Insider a second time a few days later. 
Mo Gets Interviewed By Local TV in San Francisco
Friday quickly turned into a really crazy day and the interest just kept pouring in. Towards the end of the day I got a call from Chris Surdi who works at WePay, a local startup here in the Bay Area and the platform I was using for Mo's donation page. They saw some of the buzz that Mo's story was generating and wanted to see if they could help get it out into the media even more. Stories like this are PR gold for companies like WePay so it was really smart of them to help out. I didn't even think about using them as a potential resource before they called but they pulled some strings and lined up some local media in SF to cover our story later that night.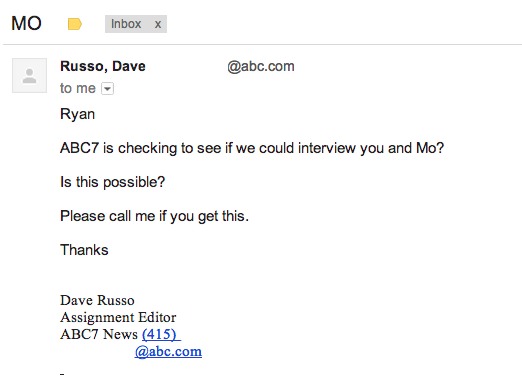 Thanks to WePay we started getting some local media interest in SF. 
After leaving work on that Friday I actually had plans for the weekend and was in a car on my way to Russian River with some friends when I got this email from Dave Russo, who works for ABC7 here in San Francisco. They wanted to interview me and Mo which meant I either skipped the interview for the weekend or stayed and tried to find Mo before that night so we could share his story on TV. I decided to stay so we turned around, dropped me off and I'm not sure how, but I found Mo not long after. A couple of hours after that we were interviewed down by the Caltrain station where we met and the segment about Mo was aired on the Friday night news and all weekend long.
That interview was a lot of fun and Mo really got a kick out of being in front of the camera. They only used 1% of what we shot, but that's how local news goes. The camera guy was really cool and loved hearing about our story. He even posed for this great photo with Mo. I love this shot.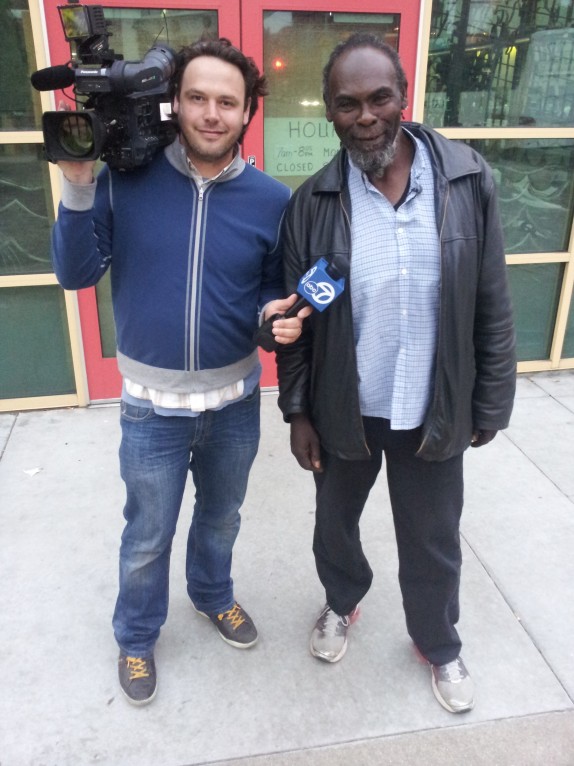 Mo cheesin' it up and Andrew the camera guy. Mo was a natural in front of the camera.
Mo Goes From Local To National
After the crazy end of that week being topped off with our interview, the rest of the weekend was actually pretty quiet. I wasn't sure if all of the news about Mo had died off and people had lost interest but I quickly found out that they hadn't. The first thing that happened on Monday was the national ABC station asked me if they could post Mo's video on their video player and interview me for a longer online story. Of course I said sure, an awesome reporter named Alexis Shaw did the interview and before you know it the madness was starting up all over again.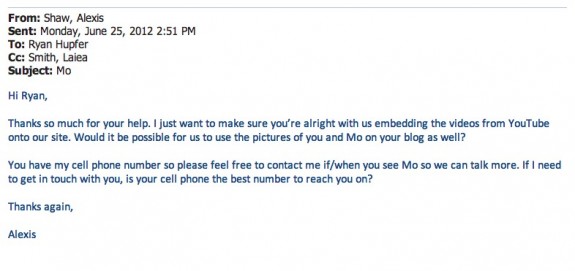 After playing all weekend in SF, Mo's story quickly went from local to national.
The national ABC content was posted on Monday and later on that day Huffington Post ended up covering Mo's story as well. This got people talking about Mo all over again and more and more people kept picking up on the story after that.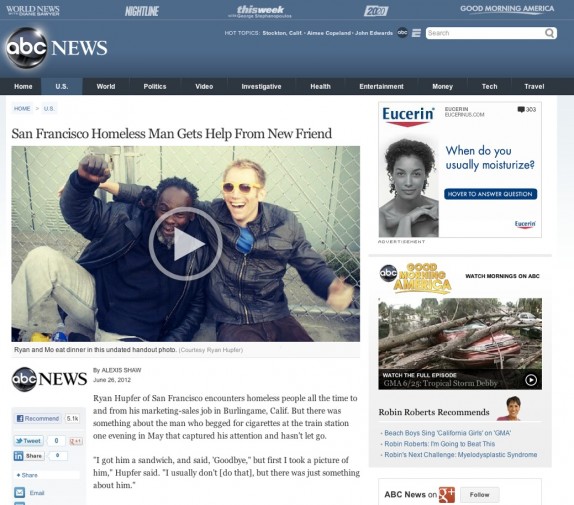 Me and Mo looking good on the national ABC News website.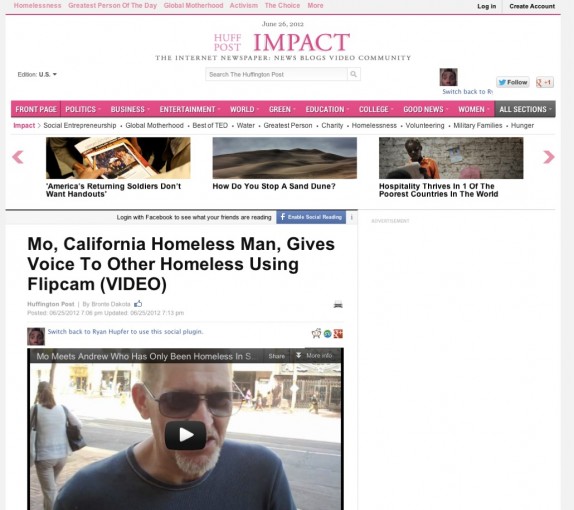 Mo on Huff Po.
Mo Gets Featured In An Awesome Video
Right around this same time a news group I had never heard called Right This Minute posted the best coverage of Mo's story that I had seen up to that point. They're a group of reporters who find interesting videos from YouTube and sit around and discuss them together in their newsroom. I didn't know that they were going to create a video about Mo's story but when I first saw it I was totally blown away. It was like I was watching a mini documentary on our relationship together and to be honest I found myself almost tearing up while watching it.
The way they brought it all together made the story even more powerful and whoever did the editing on it did an amazing job. Once again this video shows the value of having lots of other content for someone to dig into and use because they created the entire video without ever talking to me about it. That's pretty awesome.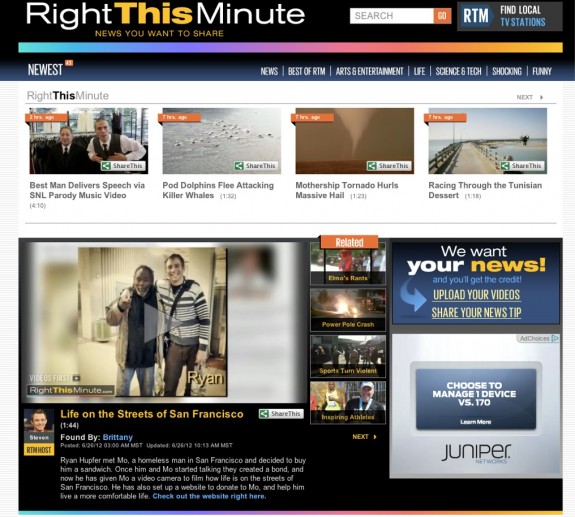 Me and Mo on Right This Minute — they did an amazing job telling our story.
Mo Gets Featured In Mashable
The next big thing to happen after this was when Matt Petronzio from Mashable emailed me and wanted to cover the story. Mashable is a huge source of tech and social media related news on the web and since Mo's story included a lot of that he wanted to tell the story.


I was really happy when I saw this email come through from Mashable.
Instead of getting on the phone Matt sent me a handful of questions that I answered over email. Some writers like to do it that way because it takes up less time, they can quote me easier and they don't have to record or take notes while chatting over the phone. Here are the questions he asked me and I answered them with everything I could and even ended up getting Mo on the phone so he could answer his questions himself. I sent over a lot of information but it's always better to give writers a lot of information than not enough.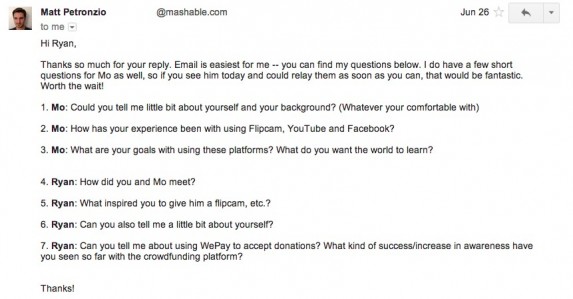 Matt sent me some questions over email, which can be easier for writers to deal with.
It took me a while to knock out all the answers the way I wanted but it was totally worth it. Getting Mo's story on Mashable was huge and it was the coverage that people who already knew me noticed the most of because a lot of them check out Mashable on a daily basis or see the posts from there getting passed around on Twitter/Facebook.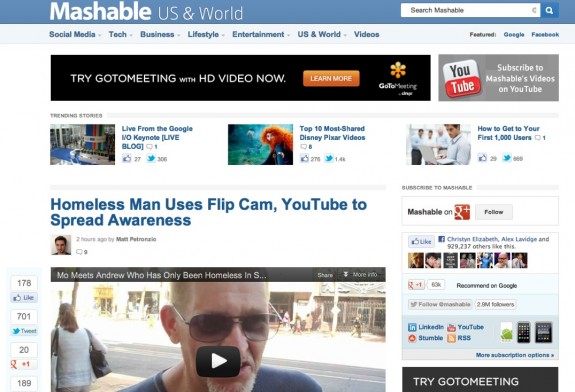 When Mo's story was on Mashable the madness started up all over again. 
Mo Goes International
The Mashable post got Mo's story in front of another huge audience and once it was live there were a lot of other posts that followed, including our first international coverage in France. I have no idea why his story spread over there, but it was really funny.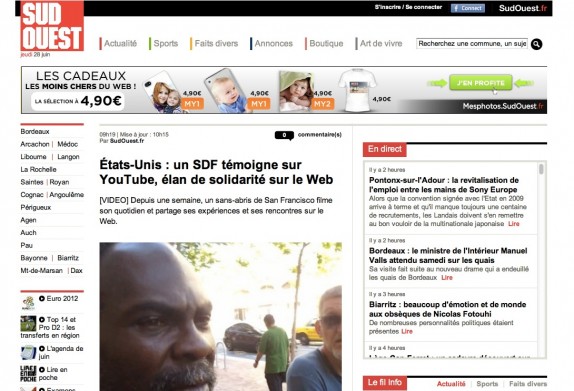 After being on Mashable Mo's story somehow made it's way over to France. 
This particular story from France was really interesting because it's the hometown newspaper of Dominique Lafaysse, a friend I work with who's French. He was so surprised when I sent him a link to Mo's story — it was really funny and what a small world. This was the only international coverage we had at that point, but there was more to come.
CNN Headline News Comes Knocking
Just when I thought that everything was done and no one else wanted to know about Mo I was emailed by a woman from Turner Broadcasting who told me that CNN Headline News (the HLN Network) was interested in covering Mo's story. They needed permission from me to use our videos and images in the segment that they wanted to air  the following day. I was really excited to hear from such a larger media source and quickly told her that they could use whatever they needed.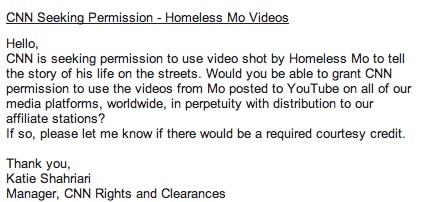 This was the first email that CNN sent me. They're awful needy, huh? 
The next day came and there was no segment about Mo. I emailed them to see what the dealio was and they said there was too much current news going on that day to fit in Mo's segment but they said it would air the following day, which was Thursday. I flipped it on the next day and again there was no Mo segment to be found. I emailed them again and they told me the same thing. There was too much current news and that meant Mo's segment was pushed out again, which they assured me wouldn't happen again the next day, on Friday. They said they'd be in touch with more details soon and they weren't kidding. I got this email the following morning.


Well, it looks like they're really going to talk about Mo *and* have a live interview with me!
So, not only were they going to air the segment on Mo's story but they also wanted to do a live interview with me. Of course I agreed and was once again excited to tell our story in front of an even bigger (and much more live) audience.
Friday quickly came and around 2pm I left the isocket office and headed up for the interview which was going to be done remotely from San Francisco. My buddy Henry Sun who is an amazing photographer met me there and he snapped some great pics of the action. I was interviewed via satellite which meant I was sitting in a room all by myself staring at a red light while answering live questions from an earpiece. To make it even better I was doing all of that in front of a super cheesy San Francisco skyline backdrop. You gotta love TV.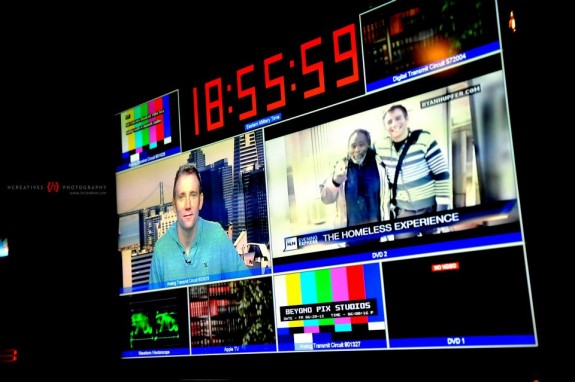 There's nothing more fun (and weird) than doing a live interview via satellite. 
Mo Gets More International Coverage
The interview went great and you can check out the video of it over here on the HLN website. Once that interview was over it was what I thought would be the end of the the week and half press blitz, but we I was wrong once again. For some reason the following week ended up being filled with all kinds of international (mainly French-speaking) media outlets covering Mo's story. There was a a lot of interest in what Mo and I were doing and to this day I'm still not sure why. Large newspapers and TV stations covered it in France and I even did an interview with a reporter from Switzerland who wanted to know more (see a photo of the hard copy of the story below).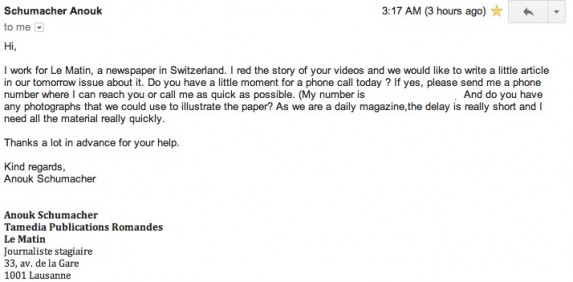 A media request from Switzerland. She called me at 4am for the interview.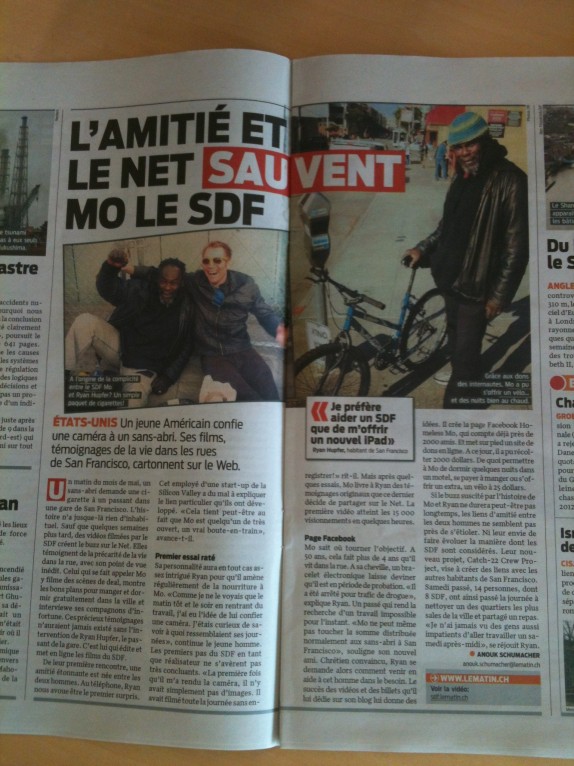 Oh, no big deal. Just me and Mo in a Swiss newspaper. 
I found most of the links to these stories through all of the new French speaking people who were starting to like Mo's Facebook page. There was a flood of people who came in from France and it was actually kinda cool. They were very supportive and many of them donated to Mo's cause. There were so many French speaking people who were now fans of Mo I even had Dom translate a status update for me so I could post it on his page for them.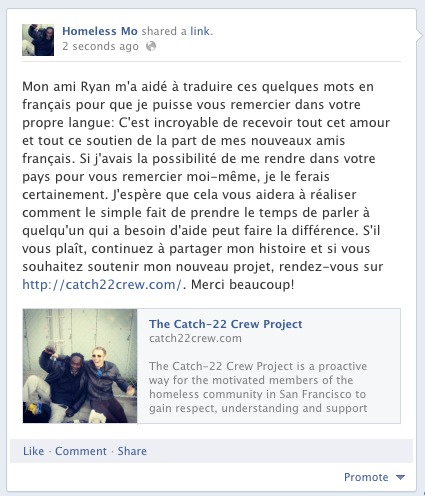 Mo speaks French to his new Facebook fans. 
Mo Gets Featured In Over 40 International Media Outlets
You can take a look at some of the international sites that Mo's story was featured on below. Be sure to watch the video, it's a really popular Frech TV show that covered Mo's story (or at least that's what Dom told me). I can't understand what they're saying, but I can tell they did a really good job sharing Mo's story with the French.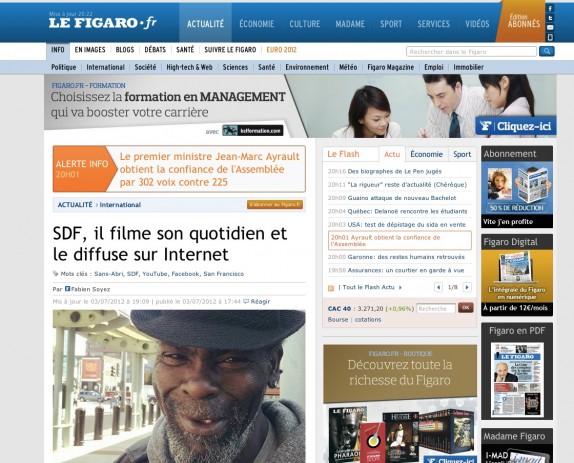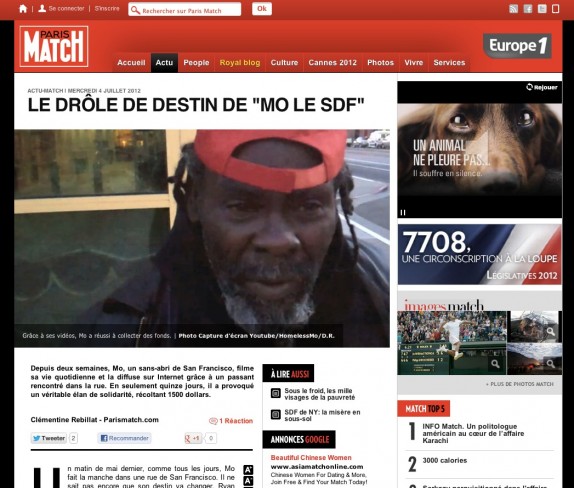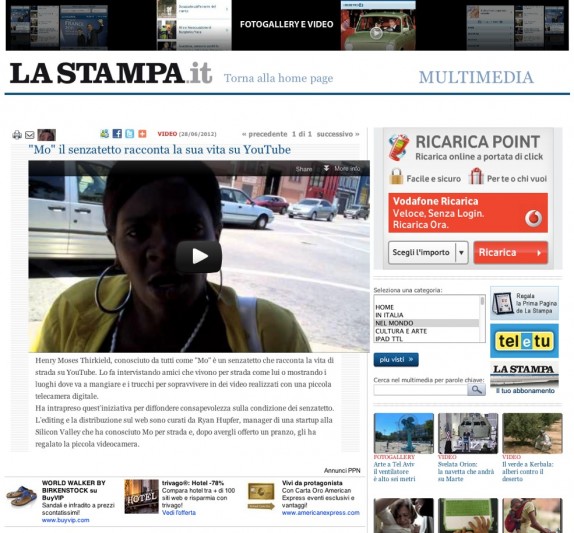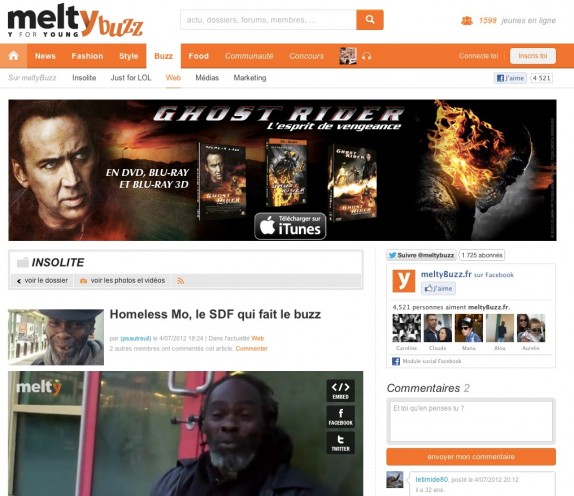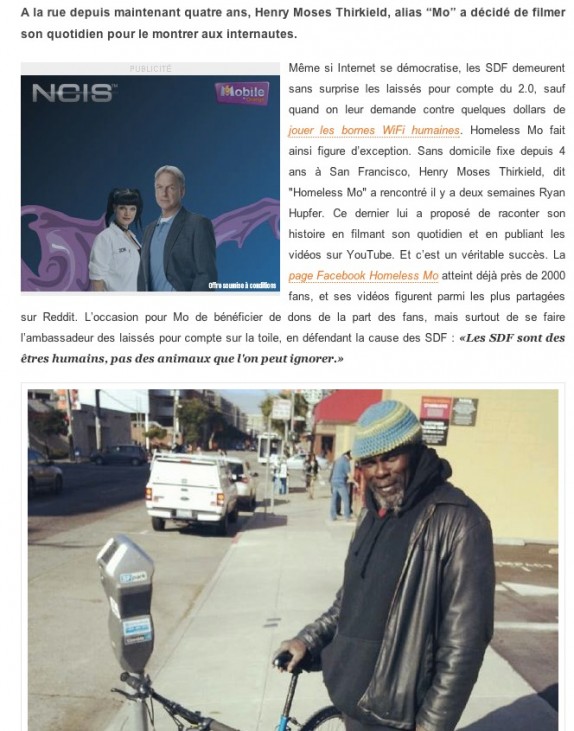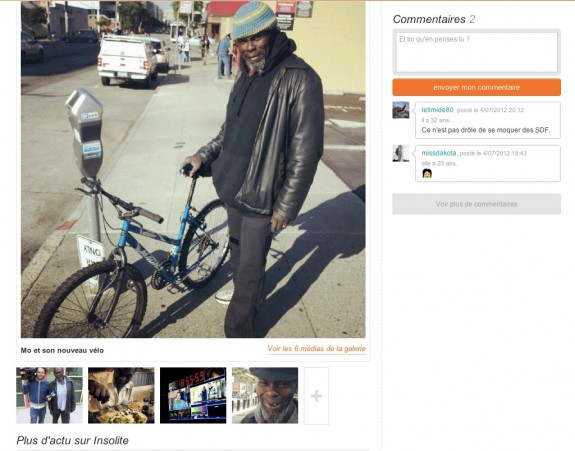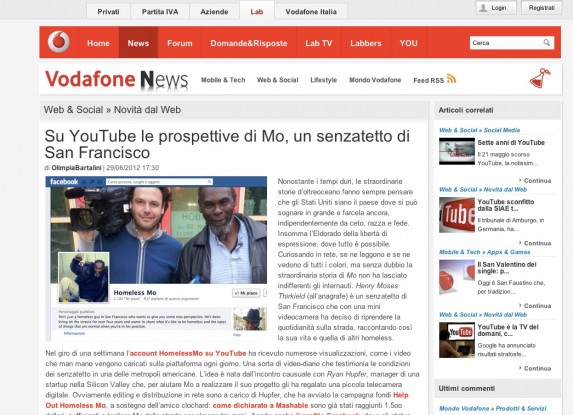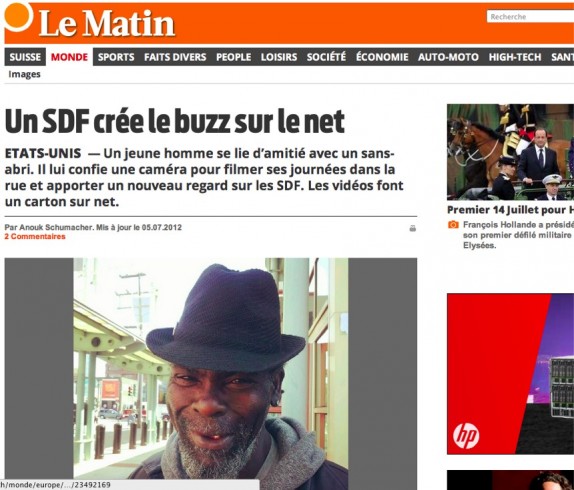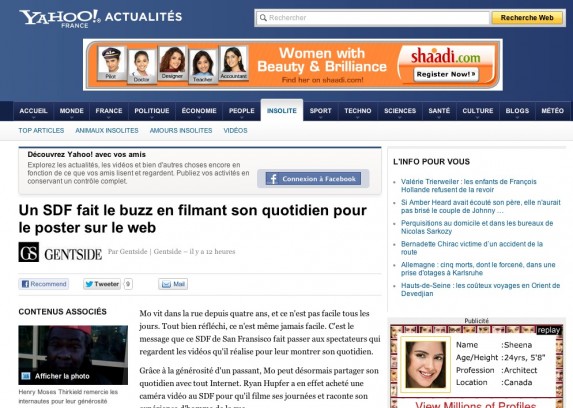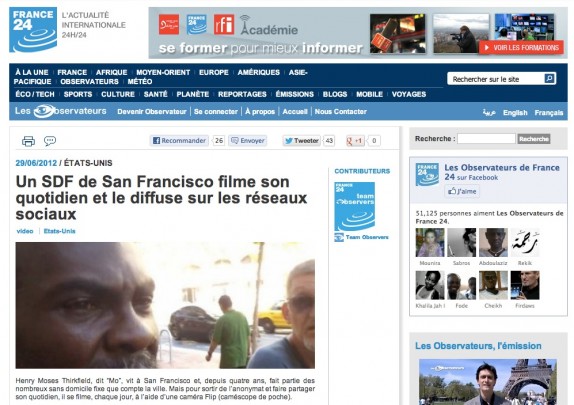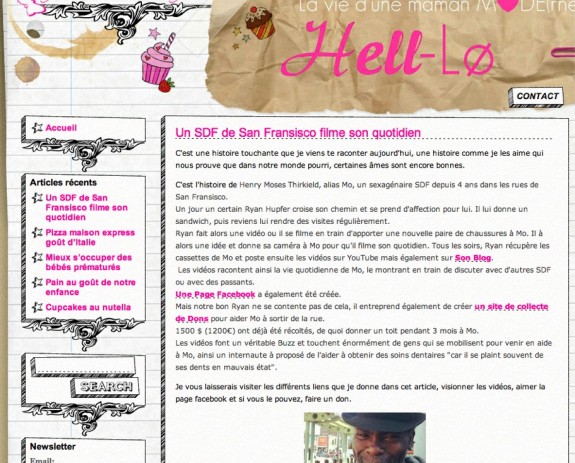 The End Of The Buzz And Beginning Of The Catch-22 Crew
After a few days the international love affair (and the rest of the news interest) with Mo finally ended but there wasn't any time to sit around. The very next day on Saturday Mo, me and some other friends put together the very first Catch-22 Crew which you can read more about over here (and I'll tell you more about it later).
I think this is probably enough for one post and if you made it down this far, thanks for reading. This has been an amazing experience  and I think there's lots more to come when it comes to Mo's story so stay tuned. Oh, and one more thing. Mo wanted to say thanks for everything you've done for him.