This Is How Mo Sleeps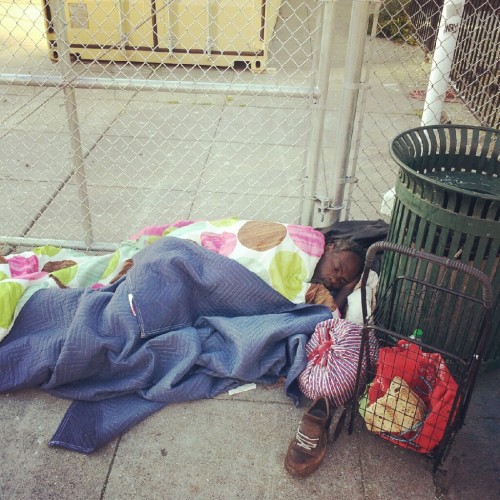 For those of you who were introduced to my homeless friend Mo yesterday I mentioned that he sleeps next to a trashcan on the sidewalk. Yesterday I woke him up at his spot and we grabbed some coffee at the train station before I headed into work. Well, today I saw him sleeping there again (sometimes he gets kicked out by cops so I don't see him) and I wanted to show you how he looks when we meet up in the morning. I'm not doing this to make you feel sorry for him or to shock you, this is just the reality he lives in.
It breaks my heart every time I see him laying there but I know it's much more complicated than simply getting him cleaned up and getting him off the streets. When I woke him up he was in his usual good spirits and seemed happy to see me. I told him how I wrote about him on my website yesterday and he didn't seem to care much. But, when I told him that one of you offered to donate him some new shoes he perked up quickly and seemed really excited.
"Who's going to give me shoes?" he asked.
"A guy named Greg who heard your story and wants to help you out." I said.
I didn't know what size he wore and I still need to tell Greg so he can send me the right ones. Greg also wanted to know what colors Mo liked so he could pick out the best ones possible. When I told Mo about that he thought it was pretty funny.
"What size do you want?" I asked while he was still waking up on the sidewalk.
"Any size!" he screamed at me playfully as he looked up while laughing at me with a smile on his face. He's still got a great smile, but he's missing several teeth.
"No, what size do you actually wear?" I asked again. "He wants to get you shoes that actually fit you."
"Twelves!" he yelled back up at me. I don't think he's been able to make a choice on the sizes of things he gets for a long time. He paused for a second, moved his foot from beneath the blankets that were piled on top of him and pointed to his heel that was sticking out of his socks.
"You got some socks, too?" he said as he smiled and pointed at the hole.
"We'll work on getting you some of those too, Mo." I said back.
At that point he stood up and told me that the motel that I sometimes pay for him to stay at is going to let him stay for an entire week for the price of one night. I'm not sure how he pulled it off, but people really like Mo and he has a good amount of people who are pulling for him. I didn't have any cash on me so I went to the ATM and he trailed slowly behind me as I pulled out the money and handed it to him. When Mo's in the train station he needs to be careful because the police don't like seeing him in there hustling, but he still goes because it's the best place for him to charge the probation GPS monitor that's always around his ankle.
What I gave him wasn't much, but for the amount I spend on Starbucks in a week it'll keep him from sleeping outside on a sidewalk next to that damn trashcan and that makes me happy.
"You won't see me for a week." Mo told me after I gave him the money for the motel.
"Good, I'm getting sick of seeing you anyway." I said as I laughed and smacked him on his back. He has my number so he'll call me and I'm more than happy to not see him for a week if it means he's chilling in a motel.
There's something different about this guy and for some reason out of all the homeless people I've talked to he's stuck around long enough for us to become friends. Where we'll end up I don't know, but I'm going to continue to be there for him as long as he lets me. If Mo's story moves you to the where you would like to help out, let me know and we'll figure something out. Personally, I'd like to keep him in the motel as long as I possibly can but there are plenty of other things he needs help with, too (he needs to go to the dentist, new clothes, etc.). I'm also thinking about starting a website/blog just for him so that I can get his story out to more people in a better way, but I'll need some help to pull it off. If you have some ways that you want to help, think about it and let me know.
—-
Thanks to all of you who have shown some love for Mo through your messages, likes, emails and giving. I know what Mo really appreciates it and I do, too.
I would especially like to thank Greg Oppman and Runners Forum in Indiana for reaching out to me about getting Mo some shoes (and now socks). Thanks to these guys Mo is going to have shoes that actually fit him for the first time in years.