I Never Heal Fast Enough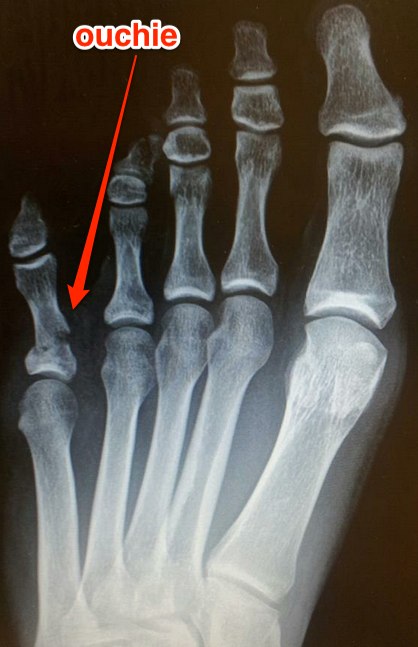 I did this to myself over 9 months ago. My poor, poor pinkie toe. 
It's surprising how long it takes to come back from an injury. In June of last year (which is almost 9 months ago) I was training for a marathon and ramping up the distance of my runs to the point to where I was running for 18+ miles without any problems. Those long runs were tiring but I guess that's expected when running for 2.5 hours straight.
So Much For Running A Marathon
Just a few days after going for one of those long runs I broke my pinkie toe in probably the most ridiculous way possible. This not only killed any hopes of running my first marathon but it also stopped me from moving any faster than a really slow walk (limp) for the next month or so.
I can remember how long it used to take me to limp over to the train station from my apartment ever morning. When I'm healthy I can give myself 8-10 minutes to walk there but after breaking my toe it took me over 25 minutes and every step hurt more than the last. I looked pitiful and there was nothing I could do about it.
No More Running For A While
I went from running 117 miles in May and over 80 miles in only half of June to not running over a mile again until the middle of July. In July I only ran a total of 17 miles and it took me many months after that to find the consistency I had before breaking my toe.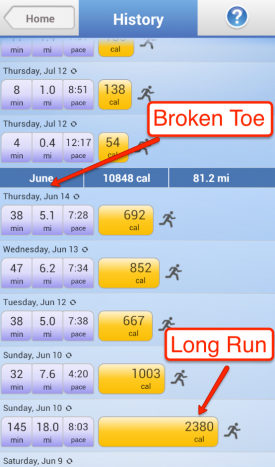 So that happened. 
It was hard during those months of getting back into the swing of things. Getting to the point to where I was waking up early to run again was tough but even after failing over and over I kept trying and eventually it stuck.
I'm Running A Half Marathon In Two Weeks
I didn't really start getting into my groove again until last month (January 2013) and now that it's February I'm feeling great about where I'm at and I'll be running my first half marathon in about two weeks. It's a trail run in Woodside, CA which means I'm going to be running up and down hills in the mud while looking at some amazing scenery. It doesn't get much better than that.
Me and a friend usually take on the same trails for our Saturday morning runs so I know what I'm in for and I'm pretty excited to see how it goes. I haven't run this far in a long time but I feel like I'm ready for it.
It Takes Time To Get To Where You Want To Be
I guess the one thing I would say about this whole experience of getting hurt, healing and finally being back to where I want to be is that it never happens as fast as I'd like. Going through something like this took patience and more time than I wanted to give — it's been nearly 9 months since I broke my toe. Si yeah, I would have loved to bounce back faster that I did but going through the struggles, slowing down and dealing with the reality of the situation has made me a stronger person along the way and I'm thankful for that.
It's not always easy to understand this while I'm going through it but having this type of perspective once it's over only prepares me for more struggles that are bound to happen sooner or later in life.