What's The Deal With The Big Cardboard Heads At The Indiana University Basketball Games?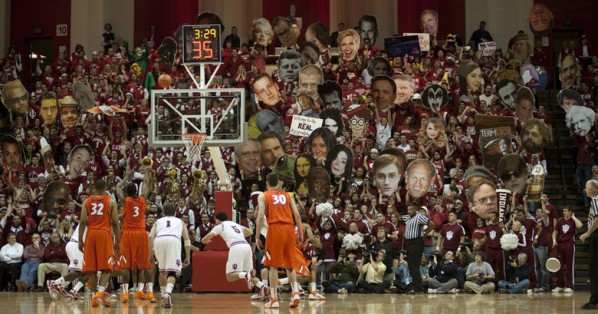 A few days ago I was watching an Indiana University basketball game with some friends of mine and while the opposing team was shooting free throws I saw something awesome in the crowd — a bunch of big cardboard cut-out heads of random famous people and characters. The students were waving them around and I was laughing while I was calling out all of the random people I could call out.
"Pee-Wee Herman! Hulk Hogan! Barack Obama! Happy Gilmore! Bob Knight! Oscar The Grouch! Apolo Ohno!" and the list went on and on. I had no idea how they came up with these different heads, but I was very curious.
Yesterday I got my answer when my buddy sent me over a link to this article about how the big, funny heads came to be. It's an interesting story and definitely worth a read if you've ever wondered about how the tradition first got started.
Nice work, IU. Nice work.
—
photo credit Indianapolis Star