My Mom Let Me Draw On My Walls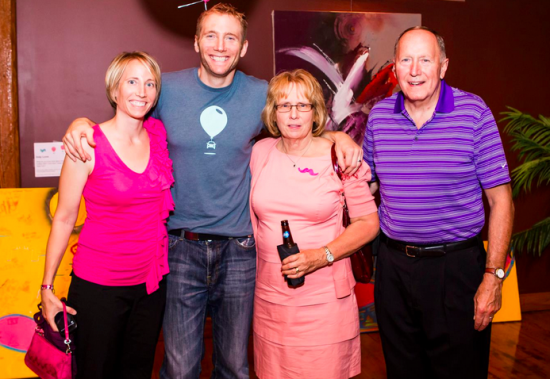 It's my mom's birthday today and instead of sending her a card I wanted to tell one of the many stories of how she has impacted my life. This story is from a long time ago but is still something I remember and talk about often. I love you, mom (and don't worry, you look amazing holding that Bud Light!)
It's not easy being the youngest kid in a family of amazing basketball players, especially when you love drawing cartoons more than shooting hoops. I was in the 5th grade, my hair was long and I spent more time on a skateboard then on a basketball court. At this point my oldest brother and sister were two of the best high school basketball players in the state and my youngest sister was tearing it up in middle school. If there's one thing the Hupfer's know, it's basketball.
Me, on the the other hand, most days I chose to stay inside during recess so I could have more time to doodle who-knows-what. I carried around an entire bag full of art supplies — paint, pencils, pads of paper, kneaded erasers and anything else I could get my hands on. I guess I liked basketball, it was all around me and I've played it all the time but it wasn't at the top of my list of priorities. I was an artist and that's all I could think about.
Enter my amazing mom who, even though I'm sure she was a little worried about my lack of interest in the family sport, was all about be bringing out my creative side. Until my interest grew in drawing and painting I had no idea my mom even had an artistic bone in her body. But soon I found out just how talented she was and I can still remember being amazed at the drawings of Disney cartoon characters she could whip up with little to no effort. You name it, she could draw it. I swear the woman can do anything.
Back then I had a bedroom with a pretty sweet walk-in closet that was turned into a room where all of my toys were stored. I didn't go in there much anymore since I had outgrown most of my toys but when I was given a drawing table for Christmas it changed the game. Toy box was out, drawing table was in and I felt like I was finally going to have a place all to myself where I could really explore my creativity.
It's also worth noting that also around this time is when the Super Nintendo was launched and it was pretty much the most amazing thing, ever. Every other friend of mine got one for Christmas. But, unlike most other parents my mom wasn't about to buy me one. Instead she decided to buy me the drawing table and I was totally cool with it. I can still remember the feeling of raw excitement when thinking about getting it setup in my closet.
Just when I thought the drawing table was the best thing that could ever happen in my life my mom then drops another bomb on me. She bought some white paint and told me we're painting the walls of my newly christened drawing room.
"You going to help me paint the walls?", she asked.
"Why are we painting it?" I wondered.
My mom looks at me, smiles and says, "How else are you going to be able to draw on them?"
How could I say no? We quickly painted the small room and when it dried I had a bigger canvas than I could have ever imagined. It was all mine and I couldn't believe it. My mom was actually going to let me draw on my walls. I thought it was awesome then but looking back now it's pretty much the most amazing thing, ever. Once we moved the table in the fun began.
For the next year or so I covered the walls with every cartoon character I could find. Tiny Toons, Loony Tunes, Teenage Mutant Ninja Turtles, Bart Simpson were drawn, painted and showcased right there in my own little space in the world. In a time when she could have easily worried about me not following in my family's basketball footsteps, my mom supported me and fed my creativity and imagination.
This is one of the many reasons why I love my mom and a small glimpse of how important she's been in shaping who I am today. I'm not sure how I got so lucky but I'm really glad I did.