Where I Work And What I Do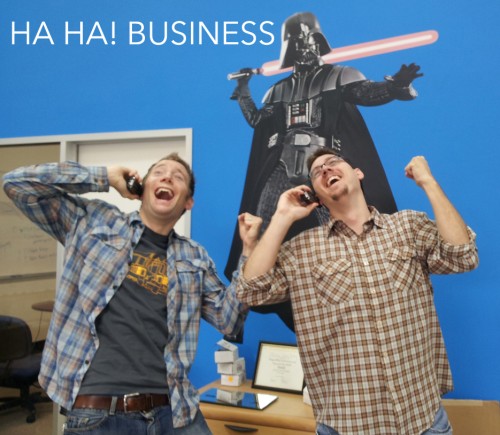 Working for a tech startup like isocket is unlike anything that I've ever done before and from the outside looking in I can see how it's hard to understand what I actually get paid to do on a daily basis. I've never really talked much about what's going on at isocket, which is crazy since I'm spending a majority of my time there and we're doing some really cool stuff in the digital ad space.
It seems like a lot of my family and friends are interested in what I'm doing and I feel bad for not writing more about what I've been up to. From here on out I'm going to write about more of the things that I think about when it comes to my job and the problems that we're trying solve with our product. I'm going to do this in hopes that it will help you (or anyone else who's curious) figure out what I'm doing with my time and energy in Silicon Valley.
Where do I work and what do we do?
One of the first questions that I always get asked when in conversation with someone I've just met or someone I'm catching up with is "So where do you work now?" or even better "What do you do?". My answer to this question changes dramatically depending on who I'm talking to, which is the marketing and sales guy coming out in me. The online advertising rabbit hole goes pretty deep, so I'll save you the details and give you a nice overview, how's that?
For simplicity's sake I work for isocket, which makes direct, display ad sales easier for advertisers and online publishers (which is the industry term for larger websites). We're developing some awesome technology that makes the money flow more efficiently between advertisers and publishers. Display advertising (those banner ads that you see everywhere) is an $11 billion market and the fact is that it should be a lot bigger (TV advertising is a $190 billion market), but right now it's just too hard for advertisers to buy display advertising and for publishers to sell it. Good thing we're here to help, huh?
So what do I actually do at isocket?
Before I get too far into what I'm doing for isocket now, it's important to know that I was the first employee that we (or "they" at the time) hired (we're up to 11 people now). That was just over two years ago and if you want you can read the official blog post that I wrote welcoming myself to the team over here on the isocket blog.
Being the first employee means that I've pretty much had my hand in everything that we've done up to this point. I was the main point of contact with our first customers, I came up with new features that we added to the product and I even helped with recruiting new people to join our team. When there's only a few people and you're trying to change an entire industry, there's a lot of work to do.
When you're the first employee of any company you need to be able to do whatever it takes to keep the momentum moving in the right direction and you also need to be able to thrive in chaos on a daily basis. One of the main reasons why I wanted to join isocket in the first place was so that I could see firsthand what it's like to get a startup off the ground and that's exactly what I've gotten so far. Has it been crazy? Oh yeah, but it's been a lot of fun, too.
As we've grown I've been able to focus my responsibilities on sales and marketing and my official title is now Director of Marketing, although I think that sounds kinda lame. It makes me sounds important, but it's just not nearly as fun as my last title, which was Customer BFF (Best Friend Forever).
Sales and marketing covers a lot for a startup that's trying to move as fast as we are. At the stage we're at now it's all about creating as much surface area in the market as we can for our brand and vision all while building relationships with as many premium advertisers, publishers and media planning/purchasing systems as possible. I help us do this through lots of different ways which I can explain later, but I'll just say that it's fun, it's exciting and it's moving fast.
So in summary…
I'm hoping this all makes sense, but if you need one more short and sweet explanation for what I'm doing out here in Silicon Valley, here's a cliff notes version.
1. I work for a tech startup called isocket and we're an advertising company that's making it easier for advertisers and websites to do business together.
2. I was the first employee at isocket and have been there for just over two years. I'm currently the Director of Marketing and my job is to get our vision out into the marketplace and to create relationships with as many advertisers and websites as possible.
3. I get to bring Frank to work (I don't think I mentioned that earlier).
If you have any questions about my job or about isocket, please let me know and there's a lot more where this came from.